One of the UK's largest aircraft carriers has sailed down the Firth of Forth after leaving its dry dock in Rosyth.
The HMS Queen Elizabeth has left the Babcock yard after a six-week maintenance period where around 100 workers replaced 284 hull valves, renewed cathodic protection electrodes and anodes, and carried out painting and work on stabilisers and rudders.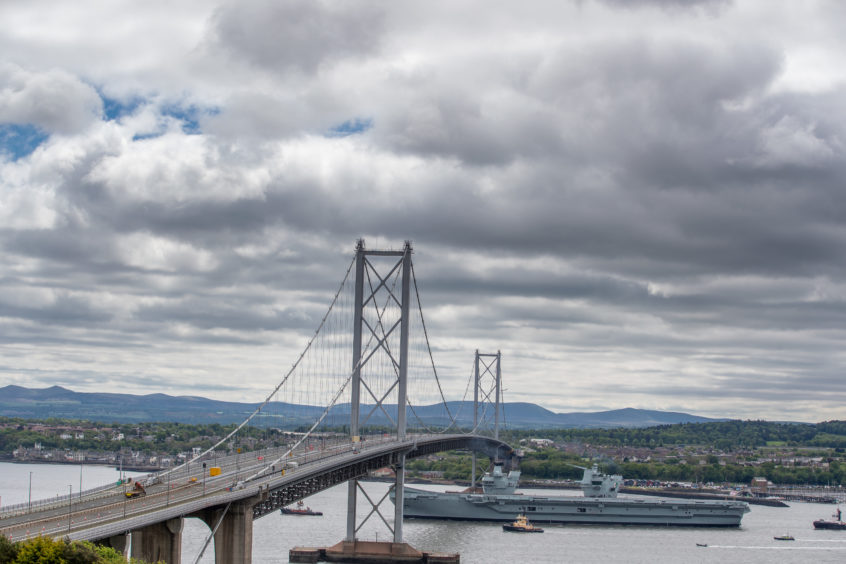 HMS Queen Elizabeth and its sister ship, HMS Prince of Wales, are the largest and most advanced warships ever built for the Royal Navy, with the former due to enter naval service in 2020.
HMS Queen Elizabeth alone, which sailed under the Forth bridges en route to Portsmouth on Thursday, has a four-acre flight deck, two propellers weighing 33 tonnes each and is capable of carrying up to 40 aircraft, as well as state-of-the-art weaponry and communications systems.
Dunfermline and West Fife MP Douglas Chapman said: "The turnaround achieved by the 100-strong team at the dockyard in Rosyth is incredible and to see the carrier leaving its dock once again was an incredible sight.
"This is again a demonstration of the incredible skill of the Babcock employees to receive HMS Queen Elizabeth and carry out repair work within six weeks.
"Rosyth should be the dock to carry out her full refit and we all say to captain and crew: 'Haste Ye Back'.
"Again, this shows the talent and skill we have and should encourage the UK Government to secure a future for the employees there once the HMS Prince of Wales project comes to an end."
Well so far we have had exercises simulating a steering breakdown, a man overboard and an attack from waterbourne craft.

Phew 😅

Now time to work off the Easter Eggs before the next serials! 🐣 = 🚣‍♀️

Good view for it @hmsoardacious pic.twitter.com/P9zW6GLSm1

— HMS Queen Elizabeth (@HMSQNLZ) May 23, 2019
The aircraft carrier successfully departed the yard at Rosyth during a precise operation at high tide earlier this week, before making its way south on Thursday.
Sean Donaldson, managing director of energy and marine at Babcock in Rosyth, said: "Working closely alongside the Royal Navy, we understand the importance of ensuring that HMS Queen Elizabeth remains in optimum condition and are delighted to have undertaken the first ever docking and maintenance period here in Rosyth.
"Seeing the two carriers back on site together was quite a moment for our workforce, we have a real affinity with these vessels and this is a fantastic achievement for everyone who played a part in this important work."