The 140-year history of Ladybank Golf Club is explored in a new book – and it's teed up more than a few surprises. Michael Alexander found out more.
It is the 66th oldest golf club in the world renowned for its course originally designed by the legendary Old Tom Morris and for being a St Andrews Open Championship qualifying venue between 1978 and 2010.
But when former Ladybank Golf Club captain Bob Drummond began researching the history of the club's trophies ahead of this, its 140th anniversary year, it was the discovery of a remarkable and forgotten story linking Ladybank Golf Club to Napoleon that made him realise that this and other remarkable findings had the makings of a book.
Mr Drummond, 77, a retired Fife primary school head teacher who was club captain during the club's centenary year in 1979, discovered that the club's first captain 100 years earlier, Sheriff FLM Heriot of Ramornie, was the nephew of the sea captain who hunted down and arrested Napoleon off the coast of France following Waterloo.
However, he was intrigued to discover that the sea captain himself – also called Frederic Lewis Maitland – was himself a Fifer, born at Rankeilour, near Cupar, who had lived a few miles away at Lindores.
"It was an absolute revelation!" said Mr Drummond, who first compiled a history of the club in 1979, but wanted to update it using the vast array of resources now available on the internet.
"The first trophy I looked at was the oldest medal – the Ramornie Scratch Medal – which was presented to the club in April 1880 by Ladybank's first captain, Sheriff FLM Heriot. He was sheriff of Forfarshire from 1860 to 1880 and he was one of the aristocratic Maitlands – his uncle was Earl of Lauderdale.
"Sheriff Heriot had been a central figure in Ladybank's creation, playing the very first game recorded over Annsmuir and being appointed captain at the very first meeting of the club.
"He was the nephew of the celebrated Fife-born Rear Admiral Frederick Lewis Maitland who was a contemporary of Lord Nelson and who famously hunted Napoleon down at sea after Waterloo, accepting his surrender on-board his 74-gun ship HMS Bellerophon before taking him back to England for his subsequent exile to St Helena.
"The voyage took a week. Captain Maitland, as he then was, placed his cabin at Napoleon's disposal and the two men dined together every evening, conversing in French since Napoleon purported not to understand English."
Accompanied by photographer David Syme, Mr Drummond will talk about the compilation of the book 'Ladybank Golf Club Chronicles (Napoleon to Nicklaus)' when it is officially launched at Ladybank Golf Club on the evening of Friday May 24.
Featuring a catalogue of newspaper extracts accompanied by excerpts from the "mercifully intact" AGM and committee minutes dating back to the inception of the club, he will talk about how the research effectively took over his life for two years and will add a wealth of humour, anecdotes and insight into how Ladybank developed from a modest nine-hole course into its current status as one of the UK's leading inland courses.
It includes a chapter on the "magical day" in 1983 when the world's then two best golfers Jack Nicklaus and Seve Ballesteros came to Ladybank to play an exhibition match, marking the refurbishment of the Old Course Hotel.
A fascinating, albeit admittedly tenuous link, is featured between Ladybank and the wider Olympic Games via the wider family of a past-captain, Ferris Mudie, who served Ladybank as doctor/surgeon for over 50 years.
The book also covers the loss of three members in the Second World War  and relives the creation of still visible craters on the course after being bombed by the Germans. It recalls how Italian prisoners of war housed at Annsmuir were marched across the course every day on their way to work duties while Polish allies were regular players over the course.
Bill Wallace' moving story of being a Japanese prisoner of war in Changi and being forced to sing Auld Lang Syne in front of Japanese officers when he thought he was about to be executed is also featured.
More than that, however, the book also provides a snapshot of social history and changes in lifestyle over the centuries.
Mr Drummond is particularly intrigued by the evocation of a different society in The Courier's "incredible description" of the Ladybank Golf Club's 1924 Christmas dance.
Reference is made to Mrs Crichton favouring a "smart gown of navy blue moire souple, the hem embroidered in bronze beads, a band of which accentuated the wrap-over effect of the skirt", not to be outdone by Miss Opdahl who was "prettily attired in brique satin beaute with circular embroideries in black silk, and the tunique was weighted by ostrich fronds in black."
With the club currently having around 1000 members and one of the few with a waiting list, Mr Drummond said the book would be of interest to members. However, with Ladybank so well known in golfing circles, he hoped there would also be wider interest.
* Anyone interested in ordering a copy is asked to contact the office at Ladybank Golf Club.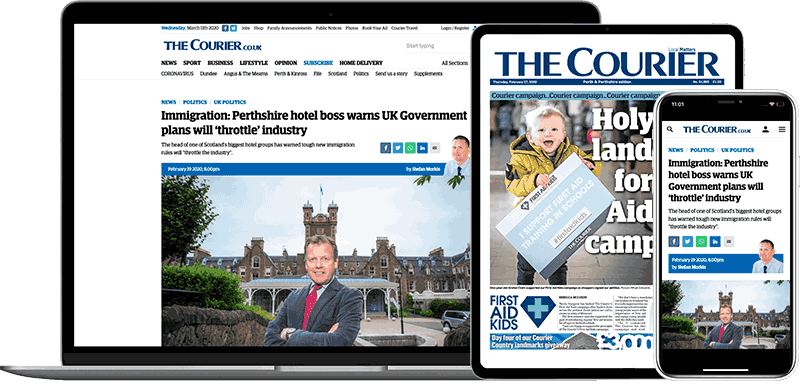 Help support quality local journalism … become a digital subscriber to The Courier
For as little as £5.99 a month you can access all of our content, including Premium articles.
Subscribe