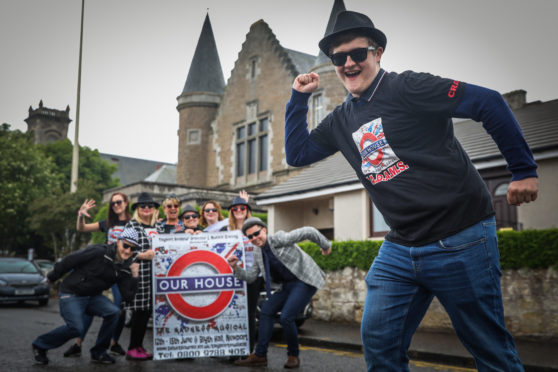 Tayport Amateur Dramatic Society is assuring audiences the show will go on, despite the planned closure of its regular venue.
The society is showcasing its latest production – Our House featuring the music of Madness – at Blyth Hall in Newport before the building shuts its doors to allow upgrading work to be carried out.
Society chairwoman Rhona McCallum said members were concerned that publicity around the impending closure would leave them looking out on rows of empty seats and wanted to remind supporters that they would be taking to the stage as usual.
"Recent uncertainty about the future of the hall has been counter-productive in terms of the promotion and marketing of our summer performances," she said.
Our House will run from June 12 to 15, with tickets available from the Ticket Source website  or by contacting 0800 9788405.
Just days after the curtain falls for the society's production, work will start on upgrading the roof of Blyth Hall to improve its soundproofing.
It follows complaints about noise coming from the 19th Century building in Blyth Street during concerts.
The six-month closure means the company is looking for another venue for its Christmas show.
"This year is our 70th anniversary and the society has always made a positive decision to have our musical performances on the south side of the bridge and at the same time keep community theatre alive in the area especially for children," said Ms McCallum.
"The building is really not ideal for modern productions but has served us well over the years and we look forward to returning there when the remedial work is completed.
"It is with great sadness that we are having to considering the possibility of performing our musical 'Nativity' elsewhere, but we are actively seeking an alternative venue as a fallback."
She appealed for anyone who could help with finding a venue for the show in December to get in touch.
Opened in 1877, the hall was gifted to the people of Newport by Mrs Blyth-Martin of East Newport in memory of her three brothers, Henry, Thomas and Charles Blyth.
Janice Laird, north east Fife community manager for Fife Council, said work was scheduled to begin on June 17 and will hopefully be finished in January 2020.