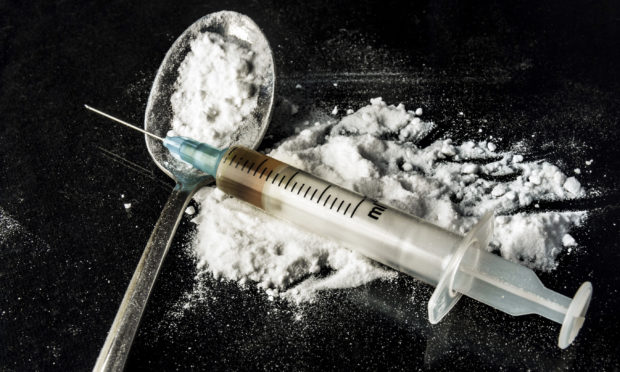 Fife recorded its highest number of drug-related deaths in 2017, stark new figures have revealed.
Sixty-six people died as a result of drug misuse, with drug-related hospital stays increasing by 144% in the 14 years to 2016-17.
The statistics in Fife's director of public health annual report also show a dramatic increase in the number of women dying because of drug use.
While the issue still affects more men than women, deaths among females have risen by a startling 750% in the last decade, from three to 26.
This compares to a 60% increase in men.
The crisis has been blamed on poverty and inequality, with those living in the region's most deprived areas accounting for 19 times the number of hospital stays compared to those in more affluent communities.
Labour MSP Claire Baker described the situation as tragic and called for more support and care for those affected.
"It is heartbreaking to see the highest number of drug deaths in Fife and the dramatic increase in the numbers of women," she said.
"Behind these worrying figures is the tragedy of people losing their lives to drug abuse and the families they leave behind.
"It is not good enough to assume that this is down to an ageing population of drug users."
The mid Scotland and Fife MSP said the deaths were all preventable and added: "This is a crisis across Scotland."
Director of public health Dona Milne said drug-related deaths were a stark indicator of persistent health inequalities in Fife.
"Preventing harm from drug misuse will be a priority for public health partners in Fife in the coming years," she said.
Ms Milne said it was important to ensure all primary and secondary care services were responsive to the needs of drug users and their families.
She added that a redesign of the mental health service should take into account the specific needs of people who use drugs, while homelessness, dentistry and criminal justice services should also be involved.
In the most recent figures available there were 57 fatalities in Dundee in 2017, compared with 38 in 2016.
Statistics showed that 73% of people who died as a direct consequence of drugs in Tayside in 2017 lived in areas that were in the two most deprived Scottish Index of Multiple Deprivation quintiles.