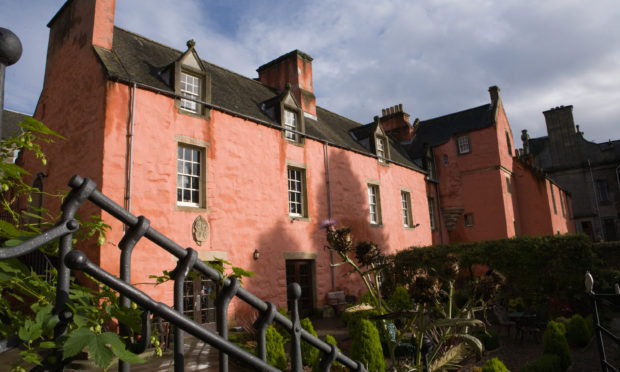 Renovation work can finally begin on reviving Dunfermline's oldest house.
However, it is anticipated phase one of the Abbot House project will open its doors later than hoped, following delays in the granting of planning permission.
Fife Council has granted planning and listed building consent for work which aims to breathe new life into the former heritage centre, which has been closed for nearly four years
While awaiting planning permission, the project team has been working to ensure the tendering process could begin as soon as building plans were approved.
All plans have been discussed in conjunction with Historic Environment Scotland and will require heritage-approved contractors for some elements of the work given the historic significance of the building – one of the few left standing after the Great Fire of Dunfermline in 1624.
The plan is to complete the project in phases to hasten its opening.
First will be the opening of a welcome hub in the east wing of Abbot House to tell its story and provide an insight into renovation plans.
There will also be an artisan pop-up shop to provide a taster of the local products which will be available through the centre's shop when it opens.
Use of the east wing will allow limited access to Abbot House while the renovation works begin both externally and in the main part of the building.
The first phase of the renovation will take in the entire ground floor and kitchen on the first floor, including the café, retail area, bakery and internal and external toilets.
It will also include the replacement of the 1960s external stair, incorporating a platform lift for disabled access to the first floor.
The target opening date for this will be this winter due to delays in the planning approval being granted.
Phase two of the project aims to follow immediately after the ground floor has opened, providing a high quality restaurant, whisky snug, events space and additional accessible toilets.
Once contractors are appointed and building warrants granted the work can start with grant funding already secured, in the main, thanks to Historic Environment Scotland, Fife Environment Trust, Fife Council, Architectural Heritage Fund and Carnegie Dunfermline Trust.
Abbot House Board trustee Lynn Gemmell said she was delighted "that we can finally get started with the hands on work and inject some life back into this much loved building".
"Our hard work is starting to turn our vision in to reality."
Operations manager Louise Hutchison, added she was dedicated to bringing a venue to Dunfermline which can be enjoyed by locals and visitors alike.