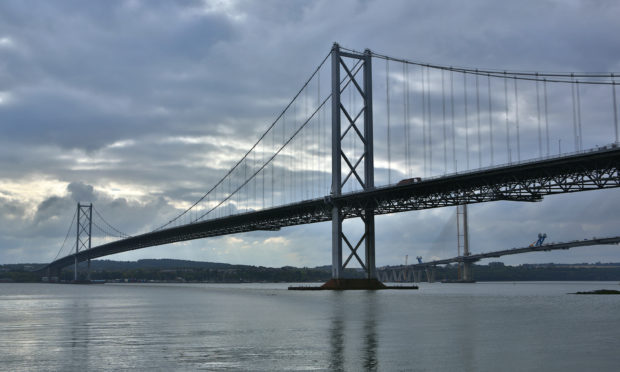 Passengers and politicians have slammed a bus operator using the Queensferry Crossing, instead of the dedicated public transport corridor along the Forth Road Bridge.
Kinross-shire Citylink passenger Robert Galbraith raised the issue after travelling on a bus caught up in rush hour traffic on the flagship £1.35 billion crossing on April 16.
"Recently, and not for the first time in my experience, on a Citylink bus from Edinburgh travelling north the driver chose to take the Queensferry Crossing during peak hour traffic instead of the Forth Road Bridge.
"This involved us all in considerable delay."
Mr Galbraith said when he questioned drivers at Halbeath they told him: "Citylink were under instructions from Transport Scotland not to use the Forth Road Bridge."
However, a spokesman for the government transport agency said: "We are not aware of any advice being provided by ourselves to bus operators asking them to avoid the Forth Road Bridge, except during severe high winds when the public transport corridor cannot be used, or when restrictions are applied.
"To our knowledge Citylink continue to use the bridge successfully."
However, a spokeswoman for Scottish Citylink confirmed some buses are bypassing the public transport corridor.
"The majority of our services are scheduled to use the Forth Road Bridge, particularly during peak times.
"However there are times, during off-peak periods, when it can be quicker for a particular service to use the Queensferry Crossing so that route will be taken in those cases."
She said the firm would look into why the 55-year-old bridge wasn't used on this occasion.
Mr Galbraith said it seemed bizarre for Citylink not to use the bridge when the whole purpose of a public transport corridor was to aid speedy bus travel.
Local Liberal Democrat councillor William Robertson said: "Even with the new bridge there are still big tailbacks of traffic at peak times so it seems crazy to me they should be adding to the congestion by routing buses through there."
The Scottish party leader added: "It's astonishing that Citylink have opted to use the often congested Queensferry Crossing instead of the dedicated bus route over the old Forth Road Bridge.
"Citylink bosses need to wake up and change the route."
The decision to make the Forth Road Bridge into a public transport corridor was made as part of the Forth Replacement Crossing Act 2011.
Since it opened, Transport Scotland said it had been successful in giving passengers quicker, more reliable journeys, particularly at peak times.
"Monitoring has shown the corridor is delivering significant journey time savings for bus users of around 40% compared to car journeys.
"This will hopefully encourage more people to use public transport where possible," its spokesman added.