Two men were captured on camera in a Kirkcaldy shopping arcade tearing down Pride flags that were later found burned.
One of the pair can be seen swiping at a rainbow flag with a crutch before the other jumps and rips it down.
The banners had only been put up the day before by shop owners in the Olympia Arcade to celebrate LGBT Pride month.
Amby Stanyer-Hunter, who owns The Dance Shack, said he was saddened but not surprised by what he described as a hate crime.
He said: "How pathetic is it for two grown men in 2019 to take exception to the rainbow flag?
"How small and narrow-minded they must be to be so offended.
"If the flags had just been taken down you could have put it down to loutish behaviour but the fact a flag has been taken down and burned, that's a hate crime."
One of the flags was found singed and melted nearby. Mr Stanyer-Hunter said the perpetrator must have been frustrated in their attempt to set light to it as it was inflammable.
Shop owners in the arcade at the south end of the High Street have worked hard to make the area more attractive in recently years.
Sharing the footage online, Mr Stanyer-Hunter said: "We don't deserve this, every one of us is a small business trying to do our bit to offer the community things they can't get elsewhere!
"So more flags will go up and we will battle through!"
Just half an hour after appealing for information, Mr Stanyer-Hunter was given names and addresses believed to be of the two men.
He said he intended to the report the incident to police.
The footage was captured by a CCTV camera at Drip Crazy Vapes.
Owner Bobby Scott described the men as 'roasters'.
He said: "Gay Pride is a very special celebration of lives lead by people no different from you or me and to have that celebration rained upon by said 'roast potatoes' is a very underhand view of others and their right to life and how it is lived."
Kirkcaldy is preparing to host its second Fife Pride parade on July 6.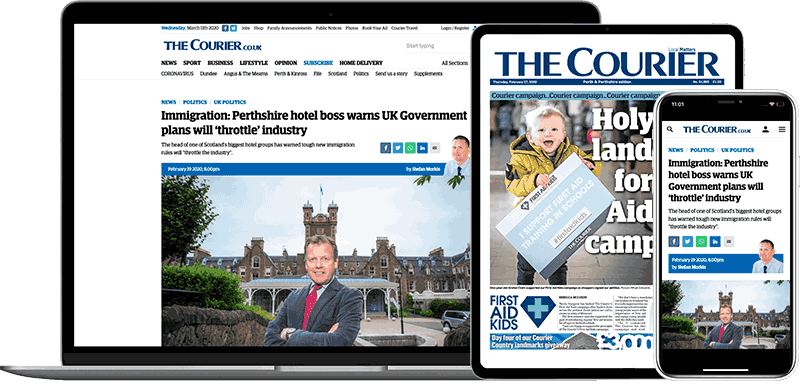 Help support quality local journalism … become a digital subscriber to The Courier
For as little as £5.99 a month you can access all of our content, including Premium articles.
Subscribe