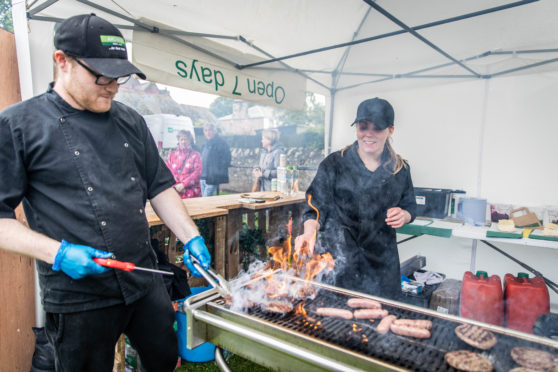 Crail became a foodies' paradise at the weekend.
The famous Crail Food Festival brought together producers of the some of the finest food and drink from Fife and beyond.
People travelled from near and far to the far corner of the East Neuk for the event, where they were able to sample, buy and dine.
Top chefs also prepared delicious dishes from local produce for those lucky enough to get their hands on tickets for a special dinner.
The festival has grown since it began eight years ago with a few markets in the community hall and a walkabout at the harbour.
However, this year's event was scaled back from last year's, with activity focused in Crail Community Hall, Crail Kirk Hall and Beechwalk Park.
It was also free, following some controversy over the £6 fee charged in 2018 and access restrictions in some areas.
The theme was picnics, and people were encouraged to dine al fresco, with a map provided of suggested spots around the picturesque village.
Vendors and street traders sold fare suitable for picnics, and those dining in the park were treated to performances by ukelele band Uke That.
There was also a food trail, highlighting food and drink outlets throughout the village to the harbour.
Among the highlights was the sellout evening meal on Saturday, prepared by chefs including Euan Graham, Scott Davies and Jamie Scott.
Festival manager Aadam Mohammed said: "We took on board feedback from last year and people didn't want there to be an entry fee so we scaled it back and put everything in one area between the hall and Beechwalk Park.
"We had fantastic vendors and entertainment.
"For our evening dinner we had chefs from the Three Chimneys Restaurant and Jamie Scott, from The Newport, prepare a seven-course tasting dinner. It was incredible.
"Sunday was so, so busy that a few of our traders completely sold out.
"It has been fantastic, everyone seems to have loved it.
"People were able to come along, wander around and enjoy the day."