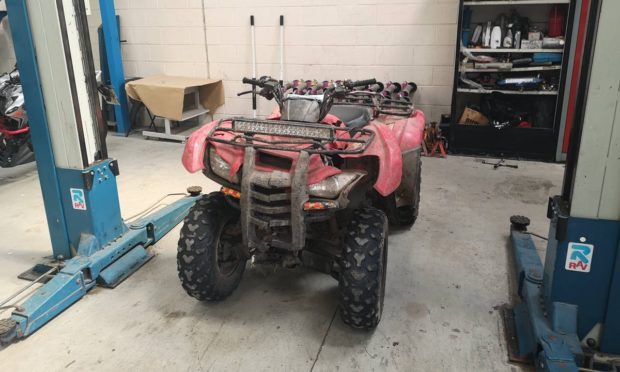 Calls to curtail the anti-social and illegal use of quad bikes in Fife have been stepped up after a young man suffered serious and potentially life-changing injuries in a crash in Kirkcaldy.
The 24-year-old rider was taken to the town's Victoria Hospital following the incident which saw his vehicle crash into a wall at Ravenscraig Park at around 9.20pm.
Ambulance paramedics treated the rider, who was the only person injured, at the scene before further treatment in hospital for suspected back fractures.
It is understood a full investigation into the circumstances leading up to the crash will be carried out but the incident has prompted a renewed focus on how authorities can crack down on the misuse of such machines in public places.
Mid Scotland and Fife Labour MSP Claire Baker, who has long campaigned on the issue in the Kingdom, particularly in Levenmouth, believes tougher action must be taken.
"This incident in Kirkcaldy makes it clear that recklessly and illegally riding quad bikes in public areas is not only a risk to the wider public but it's also a risk to the rider," she said.
"This rider has obviously paid a high price and I hope this individual recovers."
Police responded to reports of anti-social quad bike misuse in Ravenscraig Park on Thursday evening, and officers were seen carrying out routine searches of the area.
The accident is understood to have happened shortly after this but Police Scotland has insisted there was no pursuit or intervention on the part of officers.
A social media post from local officers also revealed: "The male's quad bike was seized after the crash, and will soon be scrapped to ensure that it can never be used irresponsibly again."
The incident comes just weeks after Inspector Tom Brown described the behaviour of some riders in the Levenmouth area as a "threat to public safety", before raising concerns that "somebody will be killed by the illegal use of motorbikes and legislation needs to be changed to reflect that".
Mrs Baker recently met with community safety minister Ash Denham to discuss the issue and is keen to look at all ways to make the police's job easier, including changes to legislation where needed.
"We need to ensure that officers are not continuing to work with one hand tied behind their back," she said.