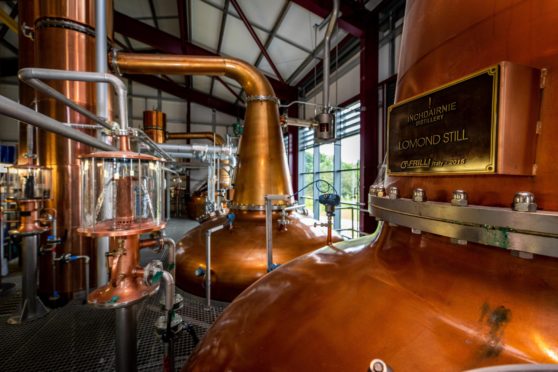 A Fife distillery has gone back in time to create an innovative tipple with an ingredient not used in a century.
InchDairnie Distillery in Glenrothes, has carefully researched the provenance of their new product and after a year of development, this week made a distillation using a combination of oats and innovative technology.
The oats distillate will ultimately be released under The PrinLaws Collection brand, a set of whiskies made from different cereals and yeasts, with up to two weeks per year at the distillery isolated for one-off distillations.
The product looks set to fall into the single grain whisky category, and will be made in a still named Lomond which, although it has a traditional appearance, hides seven evaporation plates in the neck. Combined with a reflux opportunity, this means spirit can be drawn off at only one, specific strength.
The Lomond still is used only for the experimental series Prinlaws Collection as well as the annual rye-based whisky named RyeLaw.
Managing director Ian Palmer said: "Our intention with the distillery right from the start was to push the boundaries of flavour in whisky using a combination of our experience and new technology while remaining true to whisky's traditions.
"Creating this whisky is one of many experimental ideas we had in mind when we built the distillery and one of the reasons we chose to install specific equipment such as the hammer mill, the mash filter and Lomond still.
"The objective of the PrinLaws Collection is to share with our consumers some of the work we are doing in exploring the outer edges of the whisky world for new and lost flavours"
During research phase, Mr Palmer uncovered evidence in the 1908-09 Royal Commission Report on Whisky and Other Potable Spirits that oats were used to make Scotch.
InchDairnie, which means 'hidden land close to water, has yet to release an official bottling, but there will be four brand names of KinGlassie, RyeLaw, PrinLaws and InchDairnie.
According to figures published this week by drinks distributor Edrington-Beam Suntory UK, the single grain whisky market is growing, with an increase in value growth of 21% between 2018 and 2019, with the sector projected to be valued £42.15 million by 2022.
Innovation movement is taking whisky to a new global audience
The popularity of Scotch Whisky has grown, and there are strict rules and regulations which govern how the product is made and exported.
The basic summary of the product is that it is made in Scotland from only cereals, water and yeast, has been matured for a minimum of the three years in oak casks, bottled at a minimum strength of 40% and distilled below 94.8% so that it retains the flavour and aroma of its raw ingredients.
Crucially, no flavouring or sweetening is permitted.
Despite a manufacturing process that appears quite restrictive, a whisky made from oats instead of barley such as The PrinLaws Collection is part of a wider movement of innovation in an industry that is shedding its stuffy image and attracting a new generation of appreciative fans.
Brand loyalty is being replaced in a market place that is keen to try new and different whisky products – at a time when quality international whiskies from countries including Japan, Sweden and India are gaining traction.
This innovation movement is broadening the demographic of whisky drinkers globally and contributing to an industry that saw exports in 2018 worth £4.7 billion and supporting around 42,000 jobs.