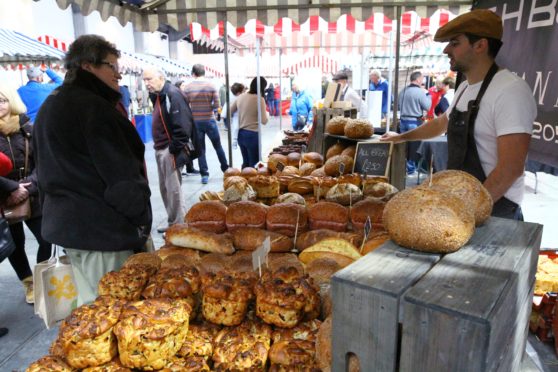 Bakers across Courier Country have risen to the occasion to take their place among the very best in Scotland.
Local businesses have scooped a raft of top honours at the Scottish Baker of the Year 2019-20 awards ceremony held at Glasgow's Crown Plaza Hotel.
The upper crust of the baking world were crowned following the counting of votes from more than 8,000 bakery customers across Scotland and a rigorous day of blind judging by 50 of the industry's top professionals.
One of the most coveted awards, that of Scotland's best scone, went to Fife bakers GH Barnett from Cellardyke, which took the top prize with its fruit version.
Owner Stewart Barnett said the honour was testament to the dedication of his staff and their desire to bake as good a product as possible, every day.
He added: "We are delighted, absolutely delighted.
"Our customers voted for our products and we could not be more grateful to win. Thank you to everyone who has played a part in our on-going success."
Other noble winners included Dundee's Nicoll's Rosebank Bakery which did its customers proud, taking gold for its melting moment biscuit, while Goodfellow and Steven of Dundee received awards for its fudge doughnut and potato scone.
Bayne's the Family Bakers of Lochore took gold for its steak pie and Stephens Bakery in Dunfermline was a finalist in the Craft Baker of the Year contest, as well as securing gold for its morning rolls.
Breadalbane Bakery & Tea Room of Aberfeldy took gold for its mint slice while the judges recognised Keptie Bakery of Letham for the quality of its morning rolls.
The Scottish Baker of the Year competition, now in its eighth year, recognises Scotland's best pies, scones, loafs, savoury items, morning rolls, cakes and biscuits.
Business awards are also given to the best bakery café, craft bakery, retail craft bakery and wholesale bakery, as well as the Scottish Baker of the Year, which was won by Harry Gow.
Alasdair Smith of Scottish Bakers, who organise the competition, said, "We received over 30,000 individual product votes for goods baked by the best bakers in Scotland.
"We are delighted to once again be giving Scottish bakers the chance to shine and showcase their fantastic products and it has given us great delight to present awards to each and every worthy winner.".