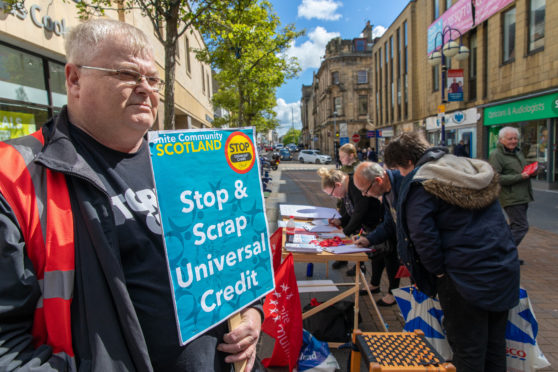 Fife Council has launched a £1 million fund to help council tenants struggling to cope with the effects of Universal Credit.
Housing spokeswoman Judy Hamilton said the move would help those hardest hit by welfare benefit changes and stop them spiralling into debt.
The Labour councillor said the fund was part of the council's commitment to a fairer Fife.
Its launch comes amid a local authority campaign against the five-week wait claimants face between being approved for the benefit and receiving their first payment.
From June 1, the local authority will credit all Fife Council tenants who have new Universal Credit claims with two weeks rent.
Ms Hamilton said this would help them while they waited to receive their initial payment.
Anyone who signs up to "rent direct to landlord" and makes a two-week rent payment will be credited with an additional two weeks rent into their account.
"New claimants of Universal Credit have a built-in waiting time of at least five weeks after their claim is approved before they receive any payment," said Ms Hamilton.
"We are actively campaigning about this and I have written to the DWP and the Secretary of State to express our concern on behalf of our tenants.
"People can't be expected to live properly and pay all their bills during this time.
"Debt can start to pile up and we know people are struggling.
"This is also the time when people can fall into rent arrears and that's where we can take positive action and help."
Some council tenants already in receipt of Universal Credit and experiencing hardship can also be helped by the fund.
Council officers will liaise with tenants in debt to identify any financial issues and offer support where appropriate.
"We believe that this will help our tenants while not completely mitigating the effects of universal credit," Ms Hamilton said.
"The fact we are having to take these measures is proof that changes to the social security system are not working and they are impacting unfairly on the most vulnerable in our communities.
"We can't sit back and allow that to happen, which is why I've announced these changes.
"A place to call home is a basic human right and we will continue to do everything in our power to make sure all Fifers have safe, warm, affordable housing."
A DWP spokesperson said advance payments for universal credit were already available and two weeks of extra housing support was paid at the start of a claim.
"In Scotland, rent can also be paid directly to landlords where requested and we can pay UC more frequently to help with budgeting," she said.
"While rent arrears cannot be linked to any one cause, many people join universal credit with pre-existing arrears and research shows that number falls by a third after four months.
"Meanwhile, Scotland has significant welfare powers, including flexibilities within universal credit and the power to top up existing benefits, pay discretionary payments and create entirely new benefits altogether."