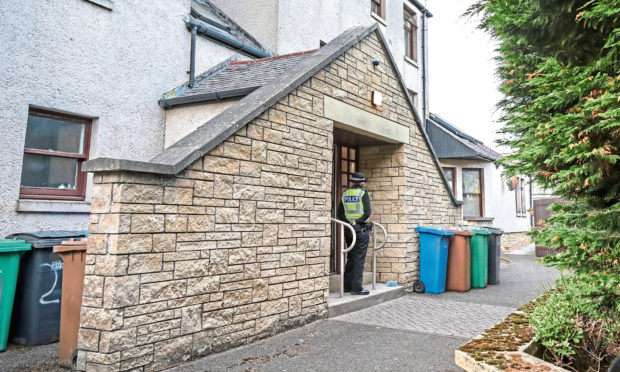 Two people have been found dead at a house in Fife.
Police were called to an address in Elie's Links Place at 5.10pm on Monday after a "report of concern for the occupant".
A man and woman were found dead inside.
Last night officers could still be seen stationed outside the flat, which is in an area popular with holidaymakers and lies a stone's throw from the beach.
A spokesman for Police Scotland declined to comment, stating the deaths were being treated as "unexplained".
Local resident Dave Woodcock said the fire service had broken down the door to the flat where the bodies were found.
He said: "I knew the woman. Her name was Val but I don't know her surname. Nobody knows who the man is.
"She'd probably been in that flat about five years.
"We got home after six yesterday and there was about five police cars here then.
"We've seen about four forensic people going in their overalls," added Mr Woodcock.
His partner Amanda McKay-Woodcock added: "You never expect anything like this. It's a weird situation to be in. For a wee village like Elie it's not something you would expect to happen."
Another neighbour, who did not want to be identified, described the situation as "crazy".
A spokesman for Police Scotland said: "Police in Fife are investigating following the death of two people in the East Neuk.
"At 5.10pm on Monday June 17 officers attended an address in Links Place, Elie, after receiving reports of concern for the occupant.
"Upon entry to the property a man and woman were found dead within. The deaths are being treated as unexplained and inquiries are continuing."
Bill Banks, from Kingdom Housing Association, confirmed that the property is owned by them.
"However," he added, "given it is part of an ongoing police investigation we are unable to comment.
"We have been advised that there are no concerns for other residents in the area. It is understood a statement will be issued by the police in due course."