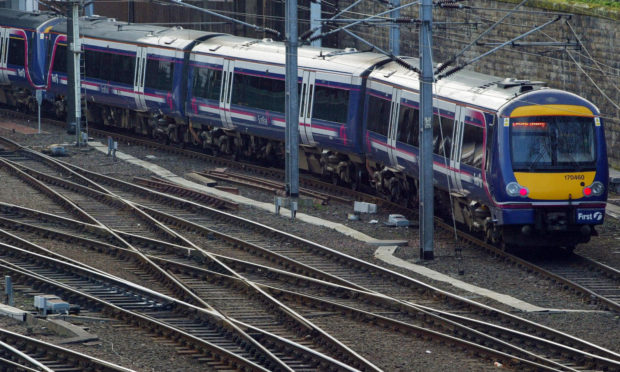 Under fire ScotRail has said its improvement plan is showing results.
And in Fife, where fed up passengers have faced months of delays, cancellations and overcrowded trains, the operator said things were also looking up.
The operator said customers are benefiting from more trains running on time, fewer cancellations, and more seats throughout the country under its performance improvement plan, it claimed.
The beleaguered firm gave a commitment to a range of improvements in March after reaching a remedial agreement with Transport Scotland.
It has now said that completion of the driver and conductor training in the east of the country has had a significant impact, with cancellations in the region at their lowest level in a year.
In Fife, one of the areas of the country where customers were hit the most by the need to train drivers and conductors, 93.25% of trains met their punctuality target.
Of the 19 commitments within the plan, 11 have already been delivered, including the lease of three additional high-speed trains, an additional annual £500,000 investment in for a performance improvement fund and the recruitment of eight additional Hitachi train technicians.
ScotRail said it is also continuing to recruit more frontline staff and is on track to exceed the commitment of hiring an extra 55 drivers and 30 conductors during 2019.
It claimed the delivery of the improvements had been boosted further by the successful implementation of a timetable change last month and the best period of performance for punctuality since September 2018.
Operations Director David Simpson said: "The successful delivery of our remedial plan remains a priority for everyone at ScotRail and I am delighted to see the progress we have made in such a short period of time.
"We put in a lot of work to identify the areas that would have the most impact for our customers, and meeting those commitments is improving punctuality, reducing cancellations, and providing more seats throughout the country."
The news comes shortly after Fife SNP MSPs told Transport Secretary Michael Matheson the service had improved marginally in recent months.
Figures showed the timetable change had provided 99% of the planned seats for customers in Fife and the service cancellation rate was 3% in the kingdom.
This saw a reduction in the number of cancellations and of trains operating with fewer carriages than planned.
But the MSPs warned this must be the first step towards delivering a substantial improvement in the standard of services.
Kirkcaldy MSP David Torrance told the minister: "This cannot be considered a job well done until all services are running at a comfortable capacity with only occasional and limited delays."
They called for additional rolling stock for the Fife Circle to be delivered as a priority.