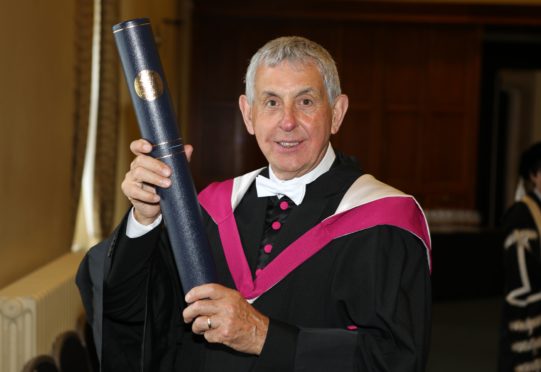 Rugby legend Sir Ian McGeechan was recognised for his contribution to the sport with an honorary doctorate as graduation ceremonies got started at the University of St Andrews.
Former rugby union player and coach Sir Ian received an honorary Doctor of Science degree on the first day of summer graduations, which saw degrees conferred on students of physics, philosophy, film studies and social anthropology.
Sir Ian told fellow graduates: "I hope you enjoy the benefits of good advice and great support from being with good people.
"Because it's good people, I have found, who make the difference. They give you the roots to grow, that's what good people do, and they give you the wings to fly, that's what you do."
In his laureation address Quaestor and Factor Derek Watson said: "I am immensely proud to stand here today and give this laureation because, for over 20 years, I have had a very treasured picture in my home that celebrates the day when the Scottish Rugby team, coached by Sir Ian, out-thought, out-fought, and out-played England to clinch the Five Nations Championship and Grand Slam in 1990.
"Since then, Sir Ian has in my head been regarded as a genius."
Author and journalist Gillian Tett received an honorary Doctor of Laws degree in recognition of her contribution to journalism and to the public understanding of business and financial cultures.
Having joined the Financial Times in 1993, she worked as a correspondent in the former Soviet Union. She is now editor at large of the Financial Times US.
Ms Tett said those sitting in front of her in the Younger Hall were "graduating into troubled times".
She said: "I work in America, in a country where there is a war on science going on, and I say that knowing that many of you have just graduated with a scientific degree.
"I'm standing here in a continent, Europe, and yes we are still in Europe, a continent that's being ripped apart by the politics of hatred and emotion, and all kinds of isms.
"And I have dedicated my career to a journalism and media world that's being undermined by fake news, a war on the truth and a loss of trust."
She said the Scottish Enlightenment, which put Scotland on the map as a centre of scientific and philosophical thought, was a "bedrock of so much of what is good about the modern world and needs to be upheld".
Addressing graduates, Professor Graham Turnbull from the School of Physics and Astronomy reassured them that their degree had prepared them for a rapidly changing world.
He said: "Be confident. Your St Andrews degree has prepared you well with the skills to analyse hard problems, with an unwavering respect for the facts and the truth, and with inventiveness and creativity."