'It was just pouring in': Shopper captures floodwater ripping through Fife Farmfoods roof
This is the moment water flooded through the roof of a Fife supermarket  as torrential rain hit the region.
Darryl Wright was in Leven's Shorehead Farmfoods store to do some shopping with his girlfriend Claire Smith when water began to leak from the roof tiles at about 3.45pm on Monday.
They left the shop after it became "too dangerous" when tiles crashed down and a "substantial amount of water" flooded the shop.
The store was forced to close following the incident but reopened on Tuesday morning.
Mr Wright, 34, said: "I was in the shop with my girlfriend Claire smith and we suddenly heard this noise as if someone turned on a loud shower.
Children moved out of class, roads 'like rivers', and closures to gallery, college campus and pool due to major flooding
"We turned around and the rain was just pouring in from the ceiling. I was a bit shocked to start with but managed to grab my phone and started filming.
"We made our way to the till as the staff calmly went about their business."
The community support assistant from Leven added: "As we got to the till we saw the tiles from the roof come crashing down followed by a substantial amount of water. The electric cables were hanging down from the roof and it was starting to get unsafe."
Mr Wright's video of the flooding was posted to Facebook and has been shared almost 2,500 times.
A Farmfoods spokesman confirmed the store has reopened.
The incident took place as major flooding hit Fife on Monday with Kirkcaldy one of the worst affected areas.
Children were flooded out of their classrooms as heavy rain hit Burntisland Primary School, with Fife College's Kirkcaldy campus was forced to close due to damage caused by the conditions.
Kirkcaldy Leisure Centre and the town's Galleries, which houses the town's museum, art gallery and library, were also forced to close early due to flooding.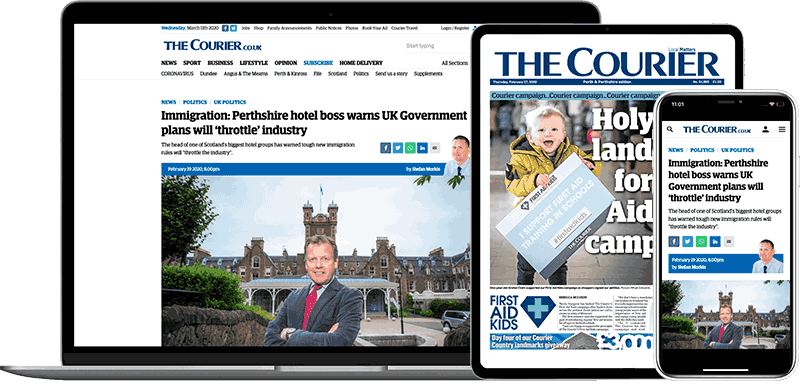 Help support quality local journalism … become a digital subscriber to The Courier
For as little as £5.99 a month you can access all of our content, including Premium articles.
Subscribe