A massive clean-up is under way across Fife in the wake of the chaos caused by Monday's torrential downpours.
Children at Burntisland Primary were forced from classrooms in the school's north wing after water got into the building and Fife College's Kirkcaldy campus had to close after ceiling panels crashed to the floor, narrowly missing students.
It will remain closed for the rest of this week, apart from to students sitting exams, to allow for repair work.
It is hoped it will be able to reopen on Monday.
Greek student Evelina Papadopoulou, 18, said she was almost struck by a metre-long panel as she stood in reception.
Her mother Grace, from Roysth, said: "They told everyone to get out of reception and a few minutes later they sounded the fire alarm."
Parts of Kirkcaldy Galleries also remained shut on Tuesday as staff assessed the damage caused to items in the basement, and householders and business people have been left counting the cost.
While the library and PC suite reopened, the cafe, museum, art galleries and local history department were all closed "due to technical difficulties arising from the severe weather".
Tuesday night's event featuring best-selling author Val McDermid, due to be hosted by Waterstone's at the Galleries, has been moved to the nearby Adam Smith Theatre as a result.
Meanwhile, Dramatic Footage has also emerged of water pouring through the ceiling at Farmfoods in Leven, as members of the public did their shopping.
Two Kirkcaldy businesses decided to brighten up the gloomy atmosphere by having a rubber duck race on the high street, but revealed many of their neighbours had been badly affected.
Staff at The Pet Shop and Print It Stitch It battled it out with a toy duck each, watching as the rainfall sent the toys soaring at speed down the pavement.
Printing shop owner Kirsty Bremner, said she had originally gone out to film the conditions when the two businesses decided to have a laugh as things began to calm down.
She said the flooding was unlike anything she had ever seen.
"I was a bit worried," she said.
"It was quite bad for some of the businesses. Quite a few of them had their back entrances flooded out.
"The indoor market rear flooded, Wilkies flooded at the front and back.
"Revolution (Barbershop) flooded at the back, we gave them some dry clothes and things."
Continuing the lighter note, a man was seen casting a fishing rod into deep flood water at the junction of Links Street and Pratt Street, Kirkcaldy.
Roads, which were compared to rivers at the height of Monday's drama, have all returned to normal.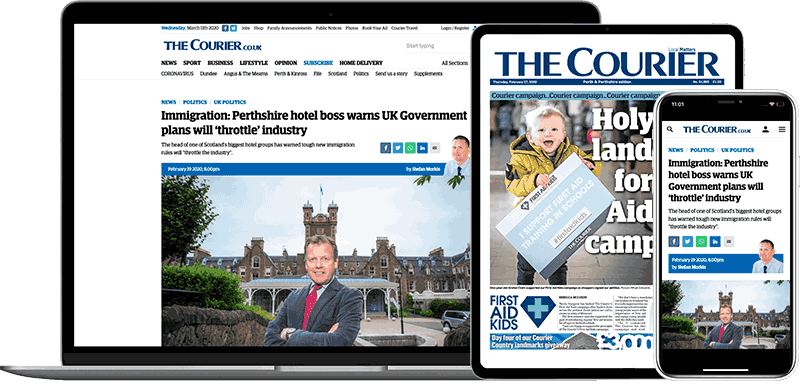 Help support quality local journalism … become a digital subscriber to The Courier
For as little as £5.99 a month you can access all of our content, including Premium articles.
Subscribe