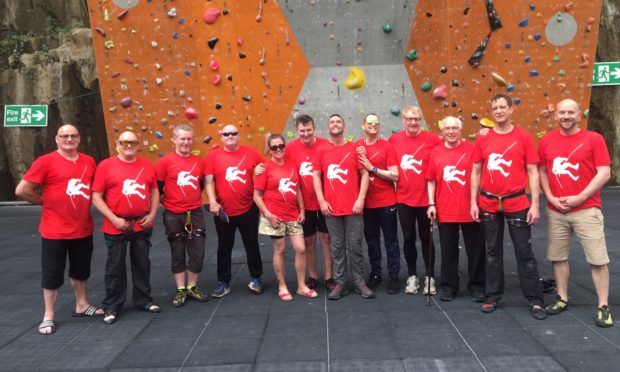 A blind Fife paraclimber is helping veterans prove sight loss is no barrier when it comes to reaching new heights.
St Andrews' Garry Cowan led 12 veterans with a sight impairment on a week-long masterclass, supported by Scottish War Blinded and Blind Veterans UK.
The troop at the Edinburgh International Climbing Arena included a 95-year-old Second World War veteran, Jim Thomson from Avoch.
For many it marked the first time they had tried their hand at climbing. However, Garry, who lost his sight completely after contracting chicken pox in 2015, was thrilled to be able to help Mr Thomson regain his love of the sport.
An avid hiker and rock climber throughout his life, the OAP said he was very satisfied to find he could still tackle a climbing wall.
Mr Thomson, who has macular degeneration, said: "Rock climbing was my interest for a number of decades and I was interested to find out if I still had the ability to do at least some climbing once more.
"I was apprehensive coming here having not done this for many years.
"But I've managed to get to the top of one of the walls, so I felt that was my success."
RAF veteran Garry, 37, fractured his spine in 2013 in a parachute jump while based at  Leuchars but regularly competes in paraclimbing nationally and internationally. His training is supported by Scottish War Blinded and Blind Veterans UK.
He said: "I simply wanted to show others in the same situation that life goes on in many ways, despite sight loss.
"I've found that climbing does wonders for me on a physical and mental level and my initial thoughts were that this would be nice to pass on to others."
He said meeting the enthusiastic veterans had been a motivating experience for him and his climbing partner Andy Keith.
"Climbing has shown first hand that it settles us veterans on the wall, as life switches off and all that matters is reaching the top," he said.
"Every single participant has shown determination and willing to learn."
Mark O'Donnell, chief executive of Scottish War Blinded and Royal Blind, said the veterans had shown unbelievable determination, and the way the group supported each other was inspirational.
Chief executive of Blind Veterans UK, Major General (Rtd) Nick Caplin praised Garry's achievements as astounding.
"It is fantastic that he is using his expertise and knowledge to pass on his passion for climbing to a new group of veterans," he said.