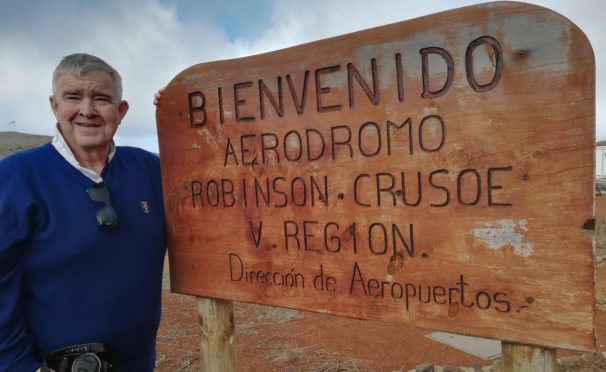 In 1719 the world was introduced to the epic tale of castaway Robinson Crusoe's battle for survival on a deserted island.
Three hundred years on a descendant of the sailor who inspired Daniel Defoe's hero looked out on the same expanse of ocean which marooned his great uncle nine times removed, Alexander Selkirk.
Ian Hendrie fulfilled a lifelong ambition to visit Robinson Crusoe Island, off the coast of Chile, and walk in the footsteps of his adventurous forebear.
And he was treated like a celebrity by residents of the tiny isle renamed after Defoe's character, who celebrate Selkirk's time there.
Ian, 59, who has close ties with the Fife community were Selkirk came from, said: "It was like being at home."
Buccaneer Selkirk was born in Lower Largo in 1676 and it was 15 years after he was stranded that Defoe's Robinson Crusoe was published in 1719.
His rebellious spirit got him into trouble with church authorities as a young man and saw him set sell on voyages of the South Pacific.
In 1704 he set out on the fateful trip which would result in him being stuck alone on an uninhabited island for four and a half years.
When the ship Cinque Ports moored at the island then known as Más a Tierra in the Juan Fernández archipelago to restock with water and supplies, Selkirk voiced grave concerns about the vessel's seaworthiness.
He insisted he would rather stay on the island than continue on a leaky vessel and Captain Thomas Stradling took him at his word and set off without him, leaving him with a musket, hatchet, knife, cooking pot, bedding, clothes and a bible.
Selkirk immediately regretted his rash behaviour but turned out to be right, as Cinque Ports later foundered off the coast of what is now Colombia. Stradling and fellow survivors were imprisoned by the Spanish.
Meanwhile, Selkirk fought to adapt to life alone, struggling with misery and at the mercy of sea lions, who forced him inshore and rats would attack him by night.
He survived by eating lobster, feral goats, berries and wild vegetables and living near feral cats.
By the time he was rescued in 1709 by an English privateer he was an adept hunter.
Back on British soil, Selkirk's story of survival caused great excitement, not least to Defoe.
Today Robinson Crusoe Island, which has a population of less than 1,000, is visited by around 2,000 tourists a year eager to fish where Selkirk did and see the sights he saw.
Ian and wife Stephie made the trip while at Santiago visiting daughter Eloise on an internship there.
They flew on a small Dornier plane to the island's tiny airstrip then travelled by boat to the main town.
Ian said: "It was all Indiana Jones type stuff, it was quite amazing."
When Ian showed his host Guillermo a piece of paper showing his family tree, the proverbial red carpet was laid out.
He was taken to see the spot where Selkirk built his home and introduced to people eager to meet the descendant of their famous .
Ian said: "They love all things Selkirk."
He and Stephanie were asked to speak to schoolchildren and attend the local library, where they were surprised to find it set out for a conference.
He said: "There were people there waiting to hear from the descendent of Alexander Selkirk! It was a bit mind blowing.
"I explained why we were there, that we were from Lundin Links next to Lower Largo where there is a plaque for Selkirk and a statute. We told them what Lower Largo is like now.
"It was all very emotional, it was incredible. We were treated like absolutely royalty.
"The mayor came to see us off and gave me a certificate for my visit and lots of photograhs were taken."
Ian, who is renovating his family's holiday home in Lundin Links to move from London permanently to the Largo village, has grown up with the story of Selkirk.
He described his ancestor as a "rascal" who stood up to authority and said: "What a lifestyle it must have been to be a privateer.
"We are all very proud of him. It's a great story."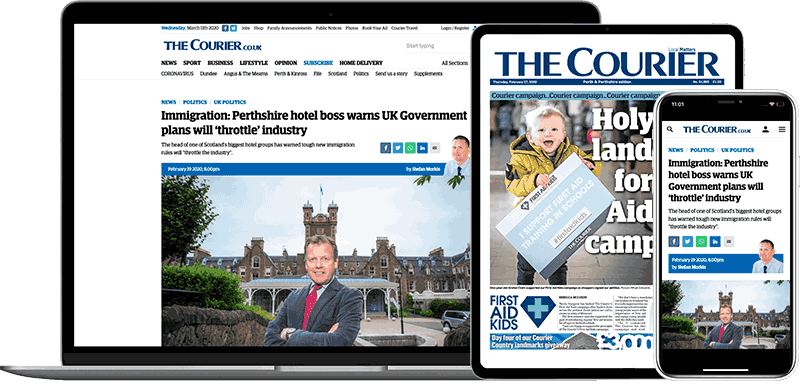 Help support quality local journalism … become a digital subscriber to The Courier
For as little as £5.99 a month you can access all of our content, including Premium articles.
Subscribe