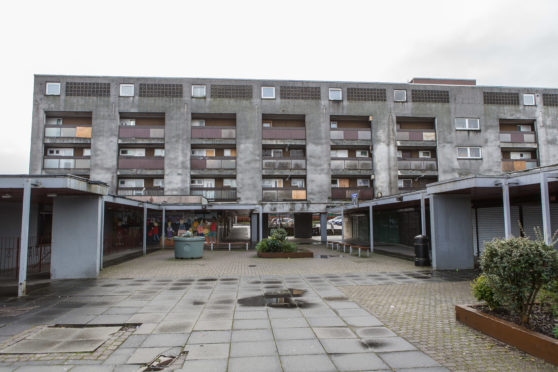 Fife Council is to commit £1.5 million towards the compulsory purchase and demolition of one of the kingdom's most dilapidated shopping centres.
The local authority aims to take control of Glenwood Centre in Glenrothes as part of ambitious plans to redevelop the site and breathe new life into the west of the town.
Compulsory purchase orders (CPOs) for the remaining 11 flats still in private ownership, as well as the purchase of occupied and vacant commercial units, are expected to be launched in the coming months.
It marks a significant step forward for Glenwood Centre, which was once the main shopping precinct outside of the town centre, but in recent years has become a haven for crime and anti-social behaviour.
Administrators were called in when Arbroath-based owners, Glacy and Light, went into liquidation in 2012.
With no buyer found and a lack of investment, the centre has fallen into decline, despite the best efforts of the remaining retailers.
The plans follow a public charrette and a number of events which helped drum up support for a full-scale regeneration of the site.
Councillors are expected to give the go-ahead to the plans when they come before committee in August before final approval is sought from the Scottish Government.
The council will then push on with demolition of the existing centre with the intention of having a regeneration package delivered by 2022, the lifespan of the council's current joint administration.
Norman Laird, Glenrothes communities manager, said the development was good news for the local community, which has shown support for demolition plans.
He said locals had been arguing for years for more investment to be made in the area.
He added: "Fife Council is committed to progress the transformation of the Glenwood Centre after last year's major consultation with the local community.
"Funding has now been secured to allow the council to commence the process for initiating a compulsory purchase order which will involve a report to the relevant council committee seeking approval.
"Ongoing discussions with local businesses and the local community continue to take place and useful and constructive feedback has been received and will be used to inform the further development plans.
"It is good to see progress being made and hopefully we can reach agreement with the private owners over the coming months."
Mr Laird said an in-depth study will now be undertaken by urban redevelopment specialists, with designs for a replacement for Glenwood Centre incorporating the various requirements highlighted by residents during the recent consultation to follow.