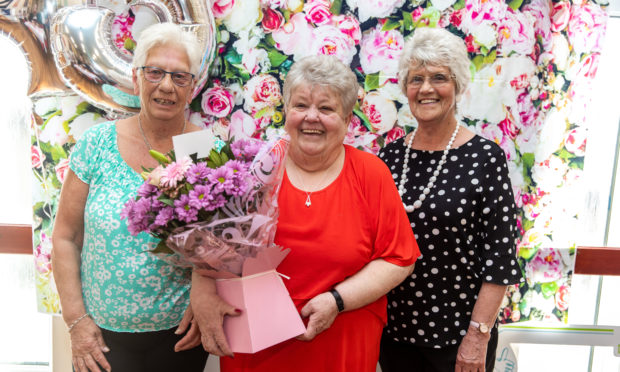 What started out as a four-week volunteering stint has turned into 44 years of dedicated service for one Lumphinnans woman.
Children's charity Barnardo's Scotland paid a fond farewell to one of its most dedicated members of staff, Amelia Howie.
Mrs Howie, one of the original volunteers in the charity's shop in Cowdenbeath, retired after helping raise thousands to support local services.
The shop opened in 1975 and throughout its 44 years' trading Amelia has been receiving and preparing donations, dressing the window, welcoming customers and keeping the till ringing.
She volunteered for 21 years before being made shop manager and has remained in that role ever since.
Amelia first heard about the idea for a "temporary" shop at a Young Wives Group.
Barnardo's fundraiser John Reekie gave a talk in a local church asking for "a group to fundraise for four weeks at Christmas".
Amelia thought Barnardo's Scotland was a worthy charity and so her career began.
Over the years Amelia has met and made a lot of friends with other volunteers and customers.
She said they have had their fair share of ups and downs, surprises and lessons learned, and been there for each other through it all.
"The highlight of 44 years has been the people I have met and worked with," said Amelia.
"This job is about community.
"The same families come into the shop again and again, in some cases it's the fourth generation now."
The shop has also trained more than 200 volunteers and seeing them gain skills and confidence has been worthwhile, she added.
Another personal highlight came in 1986 when she meet Diana, Princess of Wales at a celebration of volunteers.
"That was a special career moment for me," she said.
"It has been a privilege to work for Barnardo's Scotland and support its work with children and young people.
"Vulnerable children still need help today, just as much as they ever did."
Amelia is looking forward to spending more time with her family and switching off her alarm clock.
"But my colleagues here have been like family too, I will miss them very much."
Area business manager Deriel Watt said: "We're really sorry to be saying goodbye to Amelia but pleased to be celebrating this milestone with her."
With Amelia and two long-term volunteers May Scott and Ella Neilson the shop has more than 100 years accumulated service.
"There's clearly something special about this shop, or perhaps it's the ladies that make it special."