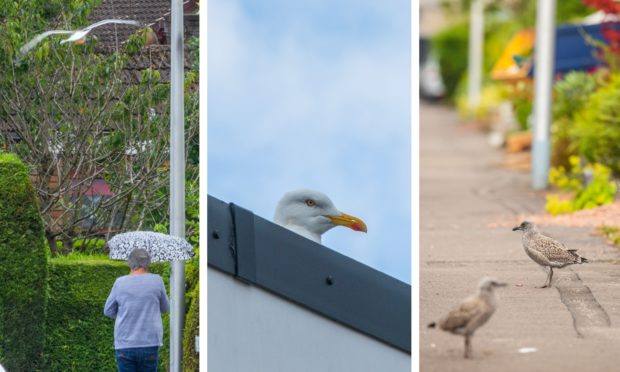 Inverkeithing residents say are scared to walk down their street because of dive-bombing gulls.
Some people living in Scotmill Way resort to shielding themselves with an umbrella when leaving their homes.
Even the postman who delivers mail to the street carries a brolly to avoid being attacked.
Christina McAllister, 40, said: "As soon as the chicks come down to ground level, the seagulls are so protective of them we can't get out of our street unless we've got an umbrella.
"We take a big golfing umbrella when we go down the street because the kids get scared."
She said her young son was struck by a gull last year.
"He got a slap on the back of his head with its wing," she said.
Residents said their postman tended to be targeted by gulls, but were unsure why this was the case.
The postman, who asked to remain anonymous, said it was not unusual for his umbrella to get buffeted by the birds.
Nettie Hutt, 82, who also lives in the street, said: "I'm frightened they could hit a child. If they hit a child with that beak, they could fracture their skull.
"Even if someone is going along the road with a wee dog, they go after the dog."
Local SNP councillors Alice McGarry and David Barratt have called for the council to remove eggs to prevent nuisance caused by gulls.
Mrs McGarry said: "David and I tried to persuade the council to incorporate a gull egg and nest removal service into the pest control service but after a review, this was not agreed. The onus therefore remains with owners to take action.
"The housing service will take action if their tenants are being menaced. I'm convinced the problem is getting worse every year and it will need to be addressed."
Mr Barrett said his suggestion of an in-house service to deal with gull nuisance was accepted by the Environment, Protective Services and Community Safety Committee, but added: "Nothing has materialised in the year and a half since the decision was taken."
He said: "My understanding is that it wasn't cost effective and that the council is instead encouraging homeowners and businesses to seek help from the private sector. I don't believe this specific measure has been effective."
In Scotland, it is illegal to recklessly injure or kill any gull, or damage or destroy an active nest or its contents.
Dawn Jamieson, the council's safer communities team manager, said: "At this time of year seagulls are protecting their young as they leave the nest. Unfortunately, they perceive people as a threat and will swoop down on them. This can be very frightening.
"During the summer months we receive several complaints about the problems caused by seagulls. To lessen the problem we encourage everyone to play their part by not feeding the gulls – deliberately or by dropping litter.
"While Fife Council have no legal obligation to deal with seagulls, we have useful gull-proofing information on FifeDirect."
A Royal Mail spokesman said: "The safety of our people is paramount to Royal Mail.
"Our postmen and women can experience difficulties out on delivery in some areas due to swooping attacks by seagulls.
"Mail deliveries are currently taking place as usual in the Inverkeithing area.
"We are monitoring the situation to ensure we can continue to deliver safely to customers."