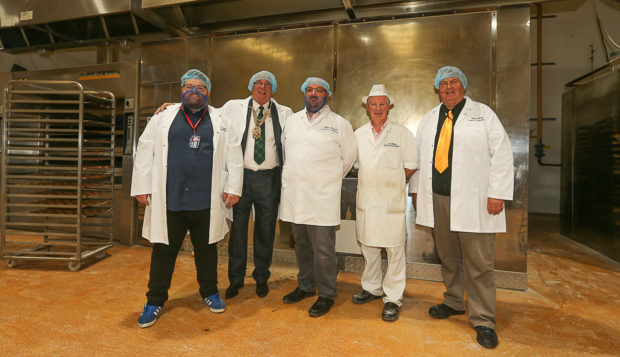 A Fife bakery has saved more than £25,000 worth of bread and cakes from going to landfill in just three months thanks to a new initiative to become more environmentally friendly and help those suffering hardship.
Bosses at Stuarts of Buckhaven's Dubbieside Bakery in Methil came up with the idea in a bid to reduce the amount of weekly waste products from being scrapped.
And the move has been so successful that Keith Stuart, managing director of the family-run business, confirmed they are now donating between three and four tonnes of bakery products to local charities every week.
He said: "Because of the business model we have whereby all our products have a strict one-day shelf life, all of the unsold items that were returned were being confined to the skip, even though they were still perfectly edible.
"I've been really impressed with the work the local foodbank and other charities such as the People's Pantry have been doing to elevate the pressure on those struggling to make ends meet, so the idea of donating our products was a no-brainer really.
"Because of food standards legislation we are unable to include pies and meat products in the donations but pretty much everything else is going to a table rather than a bin.
"Now we only empty our skips every two weeks rather than weekly so we are confining much less to landfill which is also important."
The move has proved a huge help for those organisations set up to help those struggling to put food on the table.
"The numbers of people needing support has continued to grow in recent times and we now provide meals for around 150 people every Friday," said Susan Price a co-ordinator at People's Pantry charity based at Leven Community Centre.
"The donations have helped so much, it's a really positive move by the company and we are certainly very grateful for all we receive."
The initiative was also praised by Fife Provost Jim Leishman and local councillors when they visited the factory this week.
He said: "Sadly, there are people who need support but this sort of initiative is helping ease their plight and that must be commended."
The Provost's comments were echoed by Labour councillor for Leven, Colin Davidson, who added: "With the company working in partnership with local charities it's a benchmark example of what can be achieved when communities and businesses work in unison.
"It's only been running for 12 weeks but has already helped hundreds of people which is fantastic."