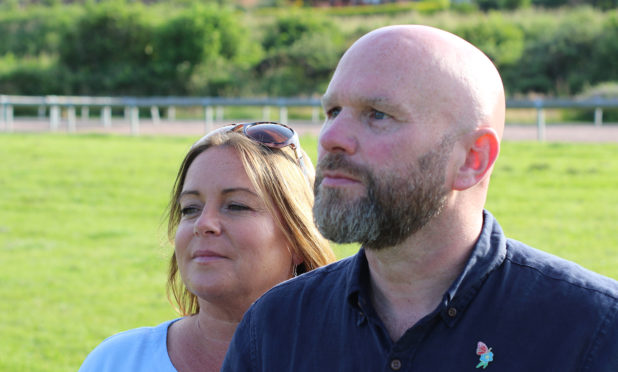 Heartbroken Fife parents who lost their son to type one diabetes have backed a fundraising appeal for a charity supporting research into the disease.
Aidan Sutherland passed away in July 2017 after celebrating his 20th birthday with friends in Newcastle.
His father John, of Kirkcaldy, described how Aidan had been "buzzing" about his birthday and may have let his management of the condition slip, causing a fatal spike in his blood sugar.
John and his wife Lin appeared on a BBC1 Lifeline appeal to highlight the seriousness of type one diabetes and support the JDRF charity, which funds research into the disease.
John told Lifeline: "Aidan was the most kind-hearted, beautiful person. He was my best mate.
"He decided to go down to Newcastle for his 20th birthday celebrations. In his words, he was buzzing
"For these two days, he maybe let it slip slightly, and it was the aftermath of these celebrations that his body went into hyperglycaemia, with his sugar levels soaring so high that his body suffered, his kidneys began to fail and he collapsed into cardiac arrest, and that was how we lost our son. It was brain damage.
"Every day is hard without him, but we're adapting."
Aidan, described by Lin as "full of fun", had been diagnosed with type one diabetes when he was 11.
Nearly 400 people turned out for his funeral, with a collection raising £1,000 for Diabetes UK Scotland.
The family later learned that as an organ donor, Aidan had helped save the lives of four other people.
In October 2017, a charity football match was held at Stark's Park, the home of his beloved Raith Rovers, in his memory.
Type one diabetes is an autoimmune disorder where the body attacks the cells that produce insulin – the hormone produced by the pancreas which allows the body to use sugar for energy. It can lead to complications including loss of sight and limb amputations.
Among the research being funded by JDRF is the development of technology to help manage the disease, such as a device already in use to monitor glucose levels and calculate the dose of insulin required.
Presenting the appeal was EastEnders actress Nina Wadia, who herself has a son with type one diabetes.
She said: "There are several types of diabetes and type one is the most life threatening. We don't know why people develop it and currently there is no cure.
"Type one can happen to anyone at any age and it changes their lives forever, which is why a charity like JDRF is so important.
"People with type one diabetes are more than twice as likely to die prematurely than someone without the condition, yet there is hope. JDRF funds up to 500 research projects at any one time, finding better ways for people to live with the condition, whilst also looking for prevention and cures."