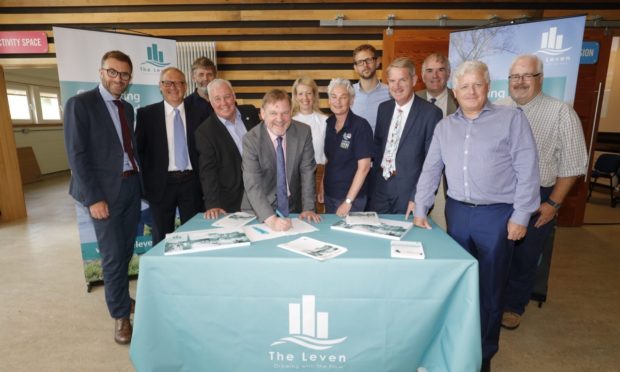 Ambitious plans to rejuvenate the former "engine" of mid Fife have been agreed in a Scottish first.
A partnership of 11 public, private, voluntary and community agencies have signed an agreement sharing a "fresh type" of vision for the redevelopment of communities around the River Leven.
They include Fife Council, the Scottish Environment Protection Agency and Scottish Natural Heritage.
This is a Scottish first and locks in sustainable growth to the Leven Partnership project which is aiming to revitalise the area as a great Fife asset by 2030.
It recognises the collective ambition of the scheme goes beyond the scope of individual organisations involved.
Former Greenpeace International chief executive Paul Gilding hailed the partnership.
The 2030 vision for the river catchment area looks at a range of projects, from tourism to business.
It aims to have the area, once home to mills, factories and mining stock, become a business hub between the cities of Dundee and Edinburgh.
Vacant and derelict land, the size of 12 football pitches, will be developed for business.
A "dynamic hub" for social enterprise, education and youth is planned.
In tandem, backers want it to be a "go to" destination with sustainable tourism becoming a key component.
There will be a network of paths and sustainable travel routes and a natural environment supporting a diverse ecology.
The vision shared by the partners is to create a "living, breathing example of inclusive growth" by 2030 along the river.
Sepa's chief executive Terry A'Hearn said he had heard speeches and read strategies in 30 years and four nations as an environmental professional.
He said: "Too much of this has been about generalities not enough has been about action."
He said what makes this project different is the 11 organisations are actually signing up to take action.
"All of us are determined to create environmental improvements in wast that drive economic and social success for the people living in this part of Scotland."
Fife's environment convener, SNP councillor Ross Vettraino, said the scheme would revitalise the area by making environmental improvements and promoting biodiversity as well as boosting business, tourism, heritage and active travel.
"Working together and with local communities we will pool resources and skills to ensure this project puts local people and the environment at its heart."