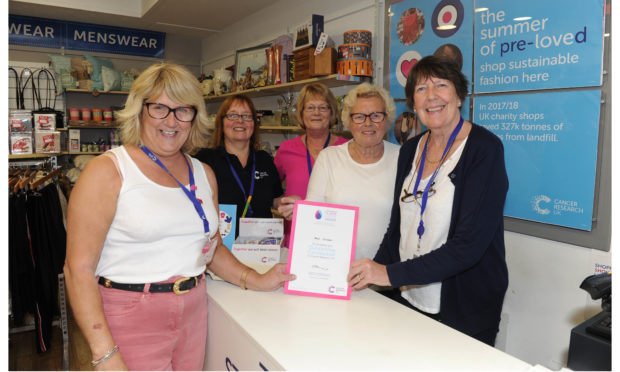 A Fife woman who lost her husband to a brain tumour has received a national award in recognition of her determination to help others.
Anne Duncan was named a Cancer Research UK honorary fellow in celebration of unflinching loyalty and dedication shown to the cause over 24 years.
She picked up the award at a ceremony at the charity's shop in St Andrews' South Street, where she has volunteered almost every Monday.
The charity's annual Flame of Hope awards acknowledge remarkable efforts in fundraising and volunteering.
Anne knows exactly how vital the power of research is to give families more tomorrows with their loved ones, having lost her husband of 51 years, Ian Duncan, on May 31.
Ian was a popular farmer and fisherman, running Kinaldy Farm and owning the Solaris fishing boat.
He was also a well loved family man with two daughters and five grandchildren.
Anne, who runs a local bed and breakfast and also makes marmalade to raise funds for research, said Ian was was really proud of her voluntary work.
"It was a really special moment to come back in to the shop after losing Ian and to receive flowers and this award from a really special group of people who have grown to become my good friends over the years."
Ken Donaldson, Cancer Research UK area manager for trading, said: "Anne is a ray of sunshine on a Monday afternoon and is popular with volunteers and customers alike
"She is mentioned many times in the customers' comments book which sits at the till.
"Anne offers sublime customer service and if you are a regular you will be greeted by name."
Ian first visited the GP last September after losing some strength on the right side of his body.
It was a shock when tests revealed the symptoms were caused by a tumour on the left hand side of his brain.
Surgeons were unable to operate but instead recommended radiotherapy.
Anne said: "We were lucky as the radiotherapy treatment helped give Ian more time.
"He is missed by all of us, even by our two Labrador pet dogs, Jules and Skye.
"As a family we were so glad of those extra few months together."
Thanks to its supporters, Cancer Research UK was able to spend around £38 million last year in Scotland on some of the UK's leading scientific and clinical research.
Dundee is home to groundbreaking cancer research, with a focus on bowel, breast and skin cancers.