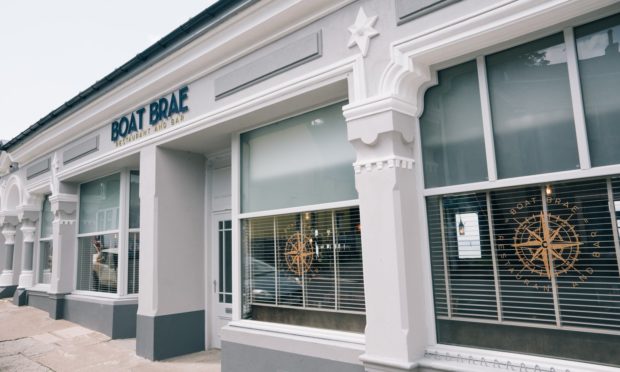 The amazing transformation of a Fife waterfront building which boasts a remarkable view across the Tay has been completed with the opening of a new pub and restaurant.
The Newport Pier Buildings have been restored to their former glory and given a new lease on life as a gastropub called Boat Brae.
The historic structure, which sits on the southern banks of the Tay, had fallen into a state of neglect before being restored by local couple Liz and David Anderson in 2018.
And the new-look Newport Pier Buildings reopened as Boat Brae on Saturday, July 27 and experienced a successful opening weekend.
VIDEO: Historic building on banks of the Tay, saved from ruin, welcomes locals for first time in decades
On Monday, Boat Brae management said: "Well, what a weekend that was. Thanks so much to everyone that has visited us over our opening weekend and to all of you who have booked to come dine with us in the near future.
"You have made us feel so welcome."
Happy Monday! Well, what a weekend that was! ? Thanks so much to everyone that has visited us over our opening weekend…

Posted by Boat Brae on Monday, 29 July 2019
The wait is Over! We will be officially opening our doors on Saturday 27th July! ? We can't wait to welcome you all to…

Posted by Boat Brae on Saturday, 20 July 2019
Posting a photo of the restored building to social media, the Old Newport on Tay Facebook page wrote: "Can you actually believe that this is the same building that was unloved, uncared for and quite derelict just two or three years ago?
"First Davie and Liz Anderson restored the building, and now Alan and Moira Beaton have transformed it into the amazing welcoming establishment that the Boat Brae restaurant/bar is.
"It has officially opened this weekend, and first customers are loving it.
"These buildings are a massive part of Newport's history and we are thrilled to see their reincarnation. Old Newport congratulates the Andersons and the Beatons on their vision, and wishes Boat Brae every success."
The Victorian structure, built in 1878, gradually slipped into a state of disrepair after the final ferry departed the Tayside town in 1966, having previously been home to a parade of seven popular shops.
The site spent many years as a research centre before closing down in the late 1990s, after which its condition worsened.
The successful restoration project was met with delight by locals, who were invited inside to view an exhibition centred around the Pier Buildings and their place in Newport's history last year.