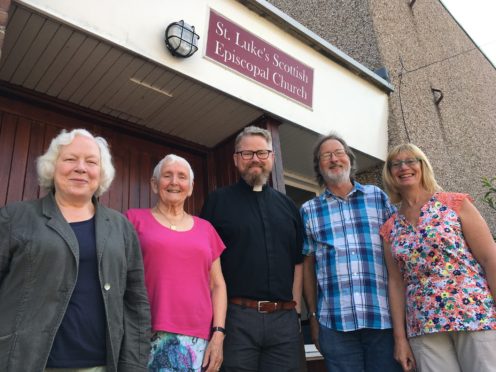 A plan to transform part of a Glenrothes church into a community cafe and social hub is one of three Fife projects that will share nearly £600,000 of Lottery cash.
St Luke the Evangelist, Scottish Episcopal Church in Auchmuty has received £375,235 to run its Peace n Jam café for the next three years.
The scheme will benefit around 500 people, as well as creating 20 volunteering opportunities.
Rev Gerry Dillon said it would allow people, many of whom would otherwise be socially isolated, to come together to build relationships and benefit from low cost nutritious meals.
He added: "There has been a great deal of work already done to get Peace n Jam off the ground, which will allow us to benefit the local community in so many ways.
"We have around 60 groups that use our building and we want it to become a focal point for everyone."
The cafe will run throughout the school holidays, allowing breakfast clubs to continue and providing meals to families who would have been in receipt of free school meals during term time.
It will also provide a base for a monthly youth cafe for local youngsters, cookery workshops for young parents and support for vulnerable and at-risk families.
The National Lottery Community Fund Scotland chairwoman Maureen McGinn, said:  "The funding will make a big difference where it is needed most and I wish Peace n Jam every success."
Elsewhere, YMCA branches in Glenrothes and Kirkcaldy have received £171,275 and £50,089 respectfully from the Lottery's Community Fund for their own projects.
In Glenrothes the funding will help to transform the outside area of a homeless accommodation unit into a healthy living garden with outdoor gym equipment, a children's play area and raised beds to allow residents to grow their own vegetables.
The area will also be used to host workshops where members of the community can learn new skills.
Mary Hill, chief executive at Glenrothes YMCA, said: "This transformative funding could not have been secured without the support of residents in Auchmuty.
"The YMCA looks forward to working in partnership with those residents to enhance the facilities at Alexander Road."
Kirkcaldy YMCA will use its funding to run drop-in cafes aimed at 16 to 24-year-olds with the aim of improving mental health and wellbeing, as well as addressing low level mental health issues faced by young people across the town.