Furious workers have been reacting after a Fife firm went into administration, leaving them jobless.
Kirkcaldy business Havelock International has collapsed with the loss of 247 jobs.
And workers have been left enraged after finding out the interior fitting firm had gone into administration before the news had been officially confirmed with staff on Thursday morning.
Speaking after Thursday morning's announcement to staff, Havelock employee Martin Reilly said: "What happened? We got no information whatsoever to say why it has happened so quickly. No warning whatsoever.
"At 4pm on Tuesday we got told to go home. We went in today, administrators stood up and they said, 'sorry everything is done, everybody leaves, hand your keys in, any possessions that belongs to this company, hand them back and that is it. Walk away'.
"There's not a lot you can say or do that is going to make any difference. They are a lot more powerful than the 5-8 guy in there. We've got no say whatsoever.
"We're just hoping that the GMB helps us out as members. I hope really they sue them. To be blunt somebody should do jail for this."
Havelock worker Bill Dickson, who was just days away from his 50th year at the company, said: "I am absolutely gobsmacked. It's ridiculous.
CONFIRMED: Staff in shock at loss of 247 jobs as Kirkcaldy firm goes into administration
"We were always hoping that there was going to be some miracle, but workers were told to come in at 10 o'clock and it's all over the papers, so it's just inevitable what's going to happen."
David Baxendale and Zelf Hussain of accountancy firm PricewaterhouseCoopers have been appointed joint administrators of the Fife firm, which specialises in fitting out premises such as shops and offices.
The administrators concluded that it was not possible to continue to operate the business while a buyer was sought, and 247 employees, the vast bulk of the workforce, have been made redundant.
The long-established Havelock Europa business, which was listed on the stock market for decades, was reborn as Havelock International after being bought out of administration last summer.
Last year's deal had at that stage saved the jobs of a 300-plus workforce engaged in design, manufacture and installation.
GMB Scotland organiser Allison Cairns said: "The anger of workers at today's announcement from Havelock is entirely justified.
"There are serious questions to be answered as to how the company was allowed to get to this point without the workforce being warned or consulted.
"The fact that redundancies were pre-briefed as an "exclusive" to a national newspaper before the workforce were informed is a disgrace and a grave error by the administrator, PriceWaterhouseCooper.
"The plain fact is that this factory does not need to close.  There is a quality product here for a buyer willing to make this business work."
She added: "The consequences if a suitable buyer cannot be found will be simply dire for Fife, for what remains of Scottish manufacturing and worst of all for the 250 people employed here, some of whom will have worked here for a lifetime, all of whom are now faced with being left with nothing.
"GMB Scotland will do everything in our power to support and assist our members at this time."
For the full statement from Havelock click here.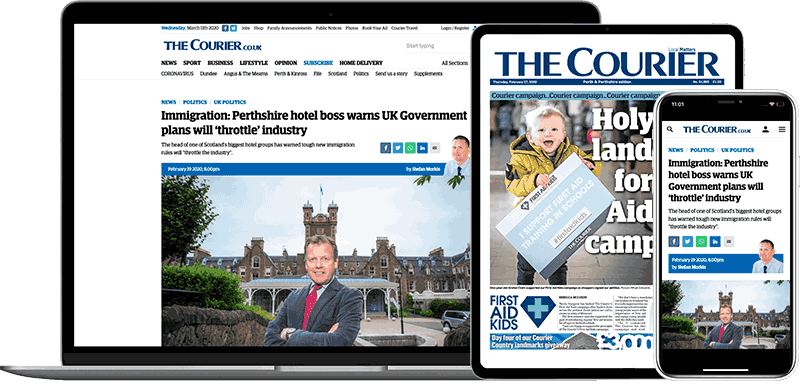 Help support quality local journalism … become a digital subscriber to The Courier
For as little as £5.99 a month you can access all of our content, including Premium articles.
Subscribe