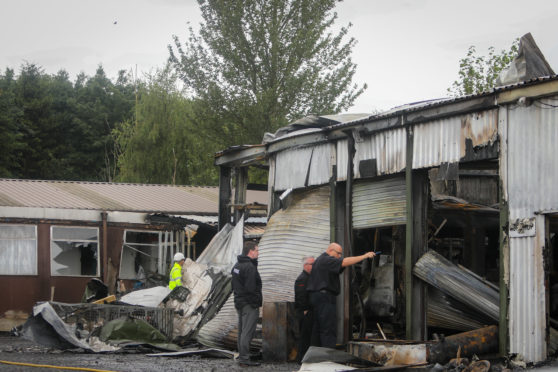 A Fife taxi firm has pledged it is business as usual, despite its base being ravaged by an explosive inferno.
The premises of Cowdenbeath Taxi Service, also known as Wullie's Taxis, were gutted after a blaze broke out at its garage, creating huge plumes of black smoke and explosions which rattled windows at around 8am yesterday.
All three people who were in the building at Woodend Industrial Estate escaped unhurt from the fire, which was so severe it blew the roof of the building off.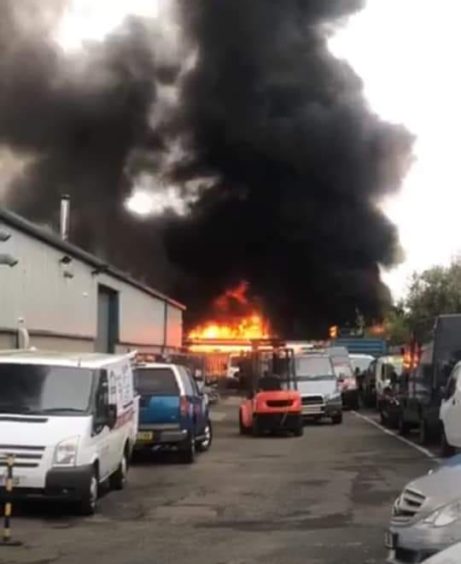 And, thanks to employees of neighbouring businesses who helped to move the firm's fleet away from the flames, the service is still on the road.
Linda Russell, office manager at the taxi firm, said she had to dodge exploding gas canisters as she fled.
"It was just a nightmare, just an inferno," she said.
"There were flames everywhere, black smoke everywhere. There are obviously tyres and that there as well.
"I've never seen flames like that before. It was quite scary.
"Then you had to watch that nothing popped out, blew out or anything.
"The biggest explosion was when the roof sort of came off. It just went flying.
"It just went up in flames, the whole lot. Canisters were bursting and banging and popping."
Linda, 59, was in the building with another two workers at the time of the incident and all managed to escape without being injured.
She praised employees of Williamson Haulage, also based at the industrial estate, who were among those who helped move cars away from the flames.
Her first thought was for business owner William MacDonald.
"It's a bloody shame," she said.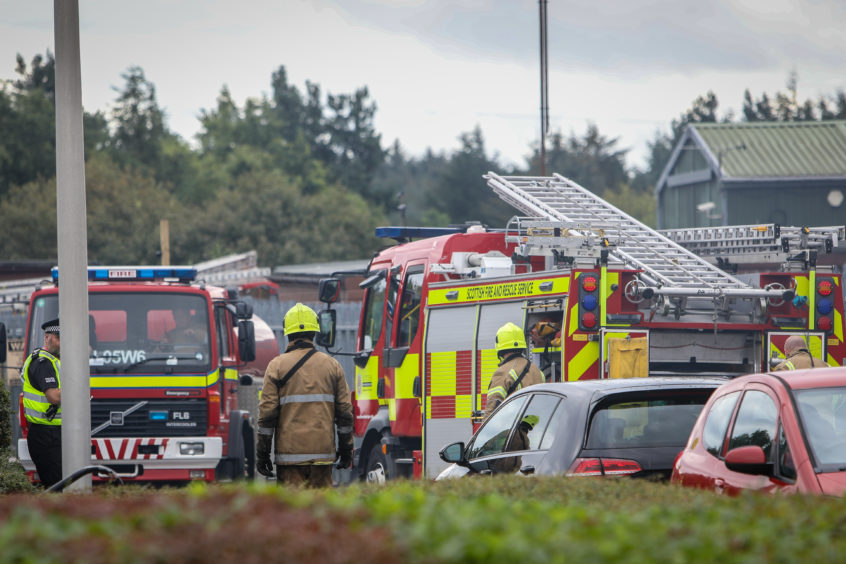 The Scottish Fire and Rescue Service sent seven appliances to the scene after the alarm was raised at 7.59am.
Just hours after the fire, Cowdenbeath Taxi Service confirmed it was still operating, with customers able to contact the firm on the same phone number.
In a post on social media, the company said: "As most will know we have had a fire in our yard this morning. All our staff are OK and safe. We are still out working from a remote location and will continue to offer the same service as much as possible."
Andrew Letham, 30, who works at the industrial estate, rushed to the garage to check nobody had been hurt and helped move taxis.
He said: "There were explosions going off. There were gas tanks for welding and stuff in the actual garage.
"There was quite heavy black smoke everywhere, probably from the rubber tyres and stuff.
"It was quite dramatic."
Local resident David Gay, 56, added: "I heard a bang and the windows rattled.
"There was one bigger bang then quite a few smaller bangs."
The cause of the fire is understood to still be under investigation.