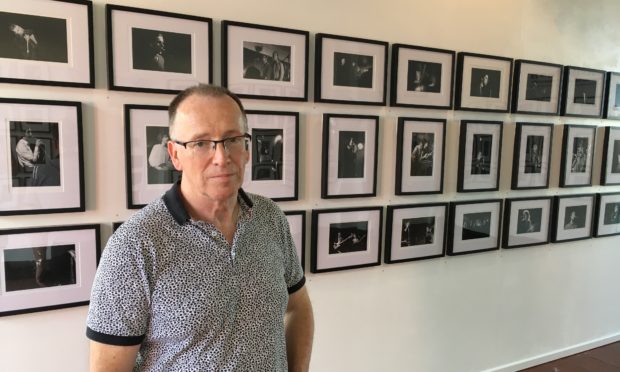 A collection of images from the golden era of punk have emerged into the spotlight in a major new exhibition in Dunfermline.
David Hunter's Seven Months in 79 show chronicles iconic band performances in Manchester and Liverpool and is made up from negatives which have lain in a drawer for nearly four decades.
As a young student, the Dunfermline-born civil engineer took his second hand camera along to a series of gigs, starting with Eddie and the Hot Rods and finishing with a double header by the Buzzcocks and Joy Division at Manchester Apollo.
Now 60, he says he only recently realised what a treasure trove he had.
"I went to a lot of gigs and didn't always take my camera but these images are from the more New Wave bands that were emerging or already famous at the time," said David.
Given the nature of gigs, and the limited photographic technology of the day, many weren't of the quality he had hoped for, he admitted.

"I found the thin negatives difficult to print at the time, everything was done by guesswork – there was a mixture of under and over-exposed film and I never knew the quality of what I had captured until after it was developed.
"So I put the negatives away and more or less forgot about them," said David.
However, his hobby was fully rekindled after he won a competition in 2003.
He discovered the negatives again in 2017 when he was looking behind a wardrobe.
"I dug out a film scanner and found that newer technology could achieve what my early darkroom skills couldn't," he said.
"Then a friend suggested I display them publicly."
The result is Seven Months in 79 which opens at the Fire Station Creative in David's home town on August 8.
"The photos here are unique in as much as they haven't been seen since I took them and feature some musicians no longer alive," said David, who now lives in Culcheth in Lancashire.
"The fact that I've got photographs of Ian Curtis, Ian Dury and Pete Shelley to share with the public is really important to me because these legends aren't with us any more."
For many the exhibition, which runs until August 18, will be a nostalgia filled trip down memory lane, with images of the likes of The Jam's Bruce Foxton and The Specials' Terry Hall.
Many of the prints will be on sale with all the proceeds donated to charity.