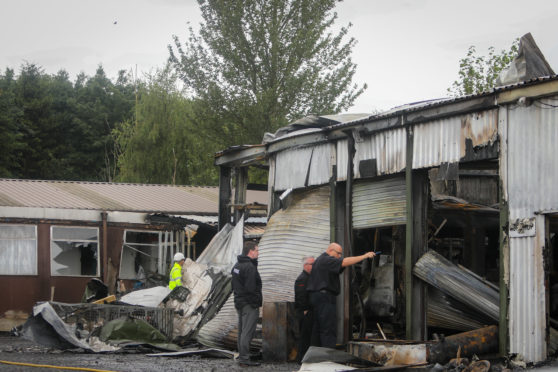 The Fife taxi firm at the centre of the major blaze on Tuesday has thanked the public for its support.
Several crews from the Scottish Fire and Rescue Service were called to the premises of Cowdenbeath Taxi Service following a number of explosions which blew the roof off the building before fire swept through the garage area causing extensive damage.
Fire chiefs said they had no fresh information on the blaze yesterday,
However, Linda Russell, office manager at the private hire taxi firm, also known locally as Wullie's Taxis Ltd, paid tribute to the fire crews and and members of the public who raced to the scene to help.
"We are just glad that today we are here to talk about it," said Linda.
"We've had messages of support from local people and the public are just glad we are still here operating.
"I'd just like to thank people from neighbouring businesses at Woodend Business Centre who rushed to help despite the obvious danger helping us to move vehicles away from the immediate area.
"Also the emergency services for their actions and all the others that were on hand to help in such terrifying circumstances."
Conservative councillor for Cowdenbeath, Darren Watt was also quick to praise the bravery of those who tackled the inferno which bellowed thick acrid black smoke into the air and could be seen for miles around.
"I must commend the selfless actions of those who rushed to the aid of those staff members caught up in the incident. Their actions sum up the best in community spirit here in Cowdenbeath.
"Also I'd like to thank both the police officers and fire crews who attended the emergency so quickly."