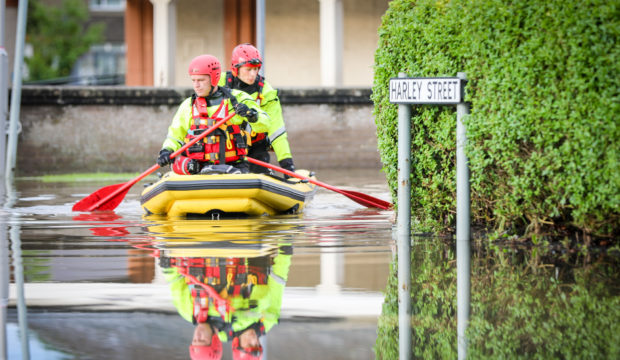 Hundreds of homes and businesses in west Fife were again left without power early on Thursday following the deluge that caused widespread flooding the previous night.
The clear-up operation is continuing in many areas, in particular in Rosyth which was worst hit by flooding after a burn burst its banks at Park Road.
Fife Council officials were said to be assessing Park Road Primary School last night, and a further update on the school is expected at some point today.
Scottish Power confirmed that faults in the KY11 and KY12 areas, which covers a large part of west Fife from Cowdenbeath through to Kincardine, had caused outages which affected a "large number of customers in a widespread area".
A spokesman said it had become aware of the problems in the early hours of Thursday morning, but power should have been restored to most areas by 7.45am.
"We did not know in advance there would a power cut and became aware at 5.33am," he said.
"Our control centre will attempt to reset the network remotely to restore power in stages, and an emergency response team are on their way to investigate the fault on our overhead line network.
"We apologise for the inconvenience and thank you for your patience."
The Courier understands that most areas had returned to normal as planned, although power was expected to be off for most of the morning in some areas, such as part of Benarty where underground cables had been affected.
A number of roads remained closed on Thursday morning because of the flooding, including the B9037 between Woodhead Street, High Valleyfield junction and the junction with A985.
Harbour Drive in Dalgety Bay was shut between the junction of Link Road and the roundabout at Harbour Way, while Station Road in Oakley was also closed from the D12 junction to the Sir George Bruce Road junction due to flooding at the Railway Bridge.
A number of Fife Council facilities similarly had to close their doors due to damage caused by the downpours, with the Camdean Community Leisure Centre, the Dell Farquharson Community Leisure Centre and the Parkgate Community Centre all reporting significant leaks from the roof.
Valleyfield Community Centre was similarly closed for that reason early on Thursday.
Anyone using the centres has been advised to check if they are open as normal on Thursday as repairs continue.
Meanwhile, organisers of the Pittenweem Arts Festival said they had to close the festival car park due to heavy flooding and "unsafe" conditions in the field.
A spokesman for the festival board said: "There is no parking in the village available for visitors, so unless you can arrive on foot or by public transport we recommend that you don't set out for the festival.
"This is frustrating for all and we are sorry to give out this news."