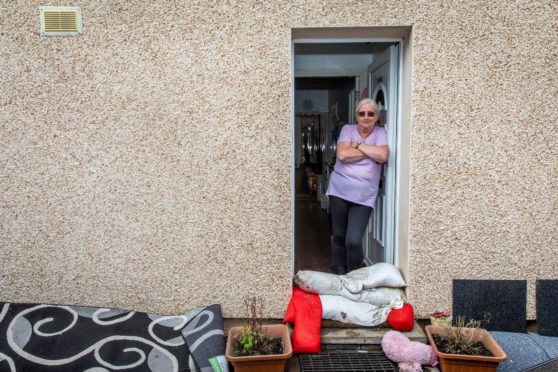 Flood hit residents in Rosyth have been left counting the cost of Wednesday's devastating deluge.
People in and around the Park Road and Harley Street areas of the town had to be evacuated as the flood water started to rise after a nearby burn burst its banks, and a massive clean-up operation was under way ahead of more rain forecast on Friday and Saturday.
Thousands of pounds worth of damage was caused, and some locals were simply left to survey the scene of devastation as the water slowly receded.
Annette Young, 65, can't yet put a price tag on what the floods have done to her home in Park Road – and struggled to put into words how she felt as well.
"I could stand here, shout, swear and curse, but it's not going to rectify anything," she said.
"But I feel really disappointed and let down by the council. Where are they?
"They are always going on about how they've not got any money, but what happened to hard labour?
"We've all just had to muck in here but the council hasn't even come with sandbags – the sandbags I've got here are the ones I kept from the last time."
Mrs Young has been doing up her house and garden recently but many of her belongings, including her new sofa, have been left sodden.
"My new laminate was to go down in the hall yesterday so we managed to move it to the living room but now that's ruined too," she said.
"My granddaughter has epilepsy so we put down carpet tiles just four weeks ago to stop her banging her head, but those are soaking and have had to come up."
Ross Speirs, service manager at Fife Council, said work to reduce the impact of the weather was "ongoing", such as the clearing of the burn behind Park Road.
"Like many areas across Scotland, torrential rain has caused some disruption," he noted.
"No surface water drains and sewers could have coped with the intensity of the unprecedented intense rainfall, which caused wide spread flooding throughout the south Fife area, including Inverkeithing, the M90, Dunfermline, Oakley and Cowdenbeath.
"Area officers worked all night to help minimise the effects.
"Scottish Water and Fife Council are working together to help householders tenants and businesses affected."
Council officials were said to be assessing Park Road Primary School which was also badly hit, although the clear-up there should be completed by next week.