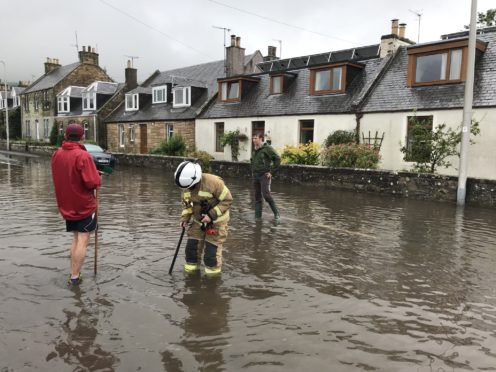 Sudden, sharp downpours caused yet more chaos across Fife on Saturday night, with train services severely disrupted and a number of roads completely submerged under water.
Dozens of routes had to be closed throughout the region as the evening wore on, as torrential rain once more took its toll.
There were lengthy delays on packed train services from Edinburgh to Dundee, and many people returning from a day in the capital were forced to endure torturous journeys due to flooding along the line – particularly at Inverkeithing Station.
Some passengers reported journey times of more than 75 minutes to get from Edinburgh to Inverkeithing alone because of problems along the network.
The station is flooded at Inverkeithing which is causing massive delays everywhere. I would be surprised if any train gets past there. pic.twitter.com/qUVAUtRJwv

— Jamie Glackin (@JamieGlackin1) August 10, 2019
Three signal failures between Dalmeny and Inverkeithing – two heading north and one heading south – contributed to the delays as train drivers were forced to stop and get permission from signallers before they could continue.
A 5mph restriction was also imposed at Inverkeithing because of the flooding, which had a knock-on effect elsewhere.
Rosyth, which saw the worst of the weather earlier in the week, was again badly hit late on Saturday, and residents in streets which were flooded just a few days ago saw similar scenes.
Park Road, Harley Street and Ridley Drive were among the roads under more than a foot of water, while the M90 junction one slip road at Rosyth had to be closed.
Haugh Road in Burntisland was closed because of flooding, while a number of routes were similarly affected including the Aberdour to Burntisland road, stretches of the A985 from Crombie to Kincardine, the A921 in Dalgety Bay, and Halbeath Road in Dunfermline, which was shut because of particularly bad flooding near the Fife College campus.
Earlier in the evening, a downpour forced the closure of a main road in Cupar.
Firefighters were called to try and ease the situation after the deluge swamped a large stretch of Ceres Road at around 5pm.
Residents did what they could to try and unblock drains which appeared to have been overwhelmed by the intensity of the rain.
People could also be seen in the town centre trying to push their cars out of harm's way as the water level rose.
The flash flood came amid further warnings of heavy rain and thunderstorms affecting parts of Fife throughout Saturday night and into Sunday.
Burnside in Cupar. The flood defences in action. Sadly, not quite enough to stop the roads and this garden from flooding yet again. pic.twitter.com/nhEJVC6esh

— Lena Ferrier (@LrFerrier) August 10, 2019
Many roads in St Andrews were also flooded as the water built up, and drivers were being urged by Police Scotland to take extra care.
The morning after the downpour before: Burst water main in Crossgate, #Cupar ! – @scottish_water in attendance! @fifeweather @metoffice @thecourieruk @C_CSmith1 pic.twitter.com/64SD4ivxK4

— Michael Alexander (@C_MAlexander) August 11, 2019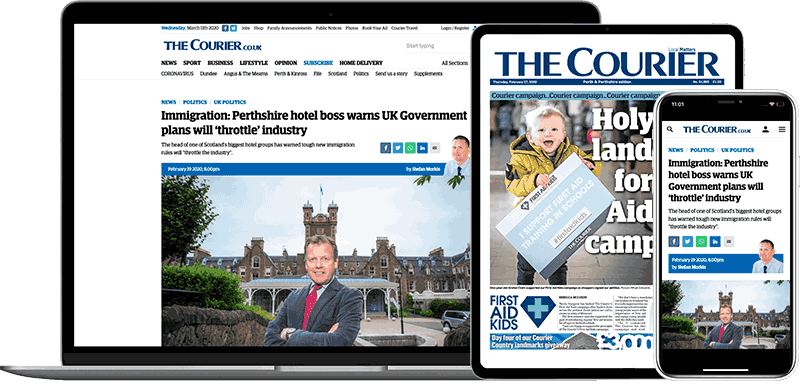 Help support quality local journalism … become a digital subscriber to The Courier
For as little as £5.99 a month you can access all of our content, including Premium articles.
Subscribe