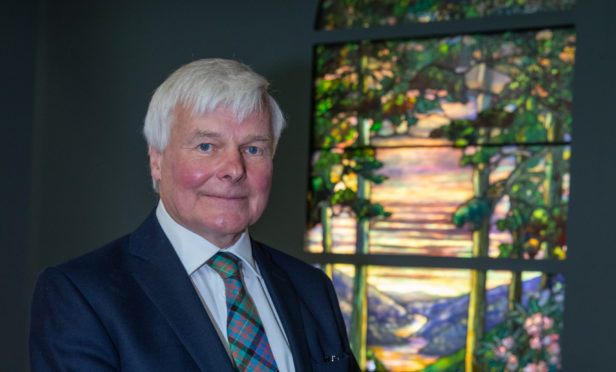 A Tiffany tribute to Andrew Carnegie has been installed in Dunfermline Abbey Church, a century after his death.
The Dunfermline-born philanthropist commissioned the world famous New York Tiffany Studios to create a stained glass window in commemoration of his parents and siblings in 1913.
The steel magnate wanted it to be placed in the historic abbey in the heart of his home town.
However, his dream was unfulfilled for more than 100 years as the heritage body of the day, HM Commission for Ancient Monuments, deemed the pastoral view unacceptable for the kirk.
The artwork, described as "unique and breathtaking" by his great-great-grandson Charles Thomson, lay in storage for many years before finding a home in the Carnegie Hall in Dunfermline.
It was later moved to a café extension at the theatre before finding a new home at the headquarters of the three Carnegie trusts based in Scotland.
With the centenary of Carnegie's death looming, it was felt the time had finally come to seize the opportunity to try to fulfil his wishes.
Following discussions with all parties, and with finance from the Dunard Fund and Carnegie Corporation of New York to restore the window, it has now been installed in the abbey church.
Carnegie's great-grandson William Thomson told the guests assembled for the unveiling: "He wished for it to be here but he died before that was possible, and was not to know what the next 100 years would bring.
"With the centenary of his death many of us thought about marking it in a way he would have approved of."
He added: "It is wonderful to see it coming here at last.
"It was his great wish that it should come to the Abbey and the Abbey was one of the great landmarks in his home town."
He said descendants of the philanthropist and representatives from his working trusts and institutions were honoured to see the widow presented to the Abbey Church.
"In the centenary of his death, it is a great honour to bring all the people from different groups together and see the window in the place for which it was intended," he said.