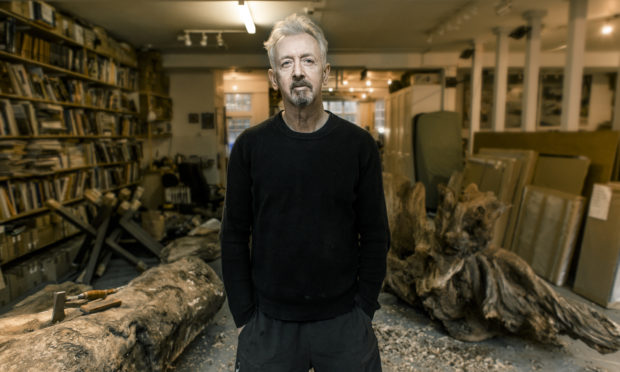 Art lovers will have a unique chance to see award-winning Fife sculptor David Mach create a large scale installation in Dunfermline.
In a "logistical challenge" the artist will be using copies of The Sunday Post weighing six tonnes for his new work, Odyssey, in Dunfermline Carnegie Library and Galleries this October.
ONFife Cultural Trust interpretation team leader Lesley Botten knew Mach had something impressive in mind when she invited him to the galleries "to see if he felt inspired to exhibit with us".
"I knew he was thinking big when almost the first question he asked was 'how is the access to the building?'
"Staging Odyssey is a logistical challenge and we're really enjoying working on this ambitious installation," she added.
The Royal Academician will be creating his new work from October 7 to October 11, which is open to the public to watch.
The exhibition will then run until February 2.
The Methil man has been a groundbreaking artist during his career, paving the way for installation art way back in the eighties.
His first sculpture was a giant Polaris submarine created from car tyres.
Fife brothers create amazing tiger sculpture made of Tunnock's teacakes wrappers
Much of his early work was created from intricate constructions of newspapers, none of which were fixed with glue, nails or screws.
In the intervening years he has worked with match heads, pianos, full-size billiard tables, dishwashers and coathangers.
Now he will be returning to using newspapers for the exhibition supported by DC Thomson Media, The Sunday Post and Fife Group.
Creating the appearance of fluid movement, the papers will be spilling out of a shipping container.
"Sea containers carry the world's stuff," he said.
"We make, we produce, we trade.
"We're obsessed with it. It's in our genes. We use these boxes to hold our ideas and designs.
"They travel the globe with our history and our culture in one long continuous journey.
"It's no wonder they appear like Greek temples, their long ribbed sides replicating pillars, their short gable ends holding the doors to the Aladdin's Cave inside."
With Briggs Marine supplying shipping buoys for the exhibition, Lesley added she cannot wait to see his new work come together.
"And I'm looking forward to seeing how our visitors' respond," she said.
To coincide with his exhibition at the cultural hub, ONFife will be displaying Mach's striking sculpture of a head made from coathangers as part of major rehang of the permanent collection at Kirkcaldy Galleries.