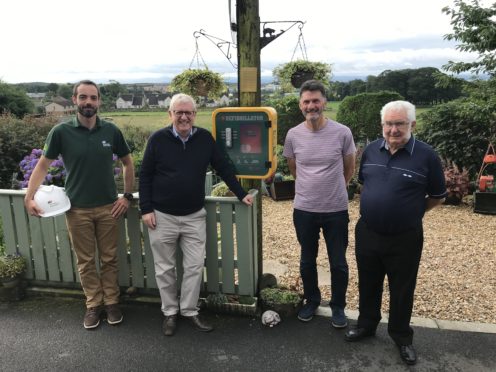 A defibrillator installed in memory of a Fife pensioner has now given her neighbours the power to save lives.
Residents of Long Row, on the outskirts of Dunfermline, came together to fund the instillation of the life saving medical equipment following the death of Betty McLean, after she suffered a cardiac arrest.
Concern had been growing that if a defibrillator wasn't provided they could soon be facing further tragedy because of the village's proximity to a major rail route.
On two other recent occasions paramedics had faced delays at a level crossing while answering emergency call outs.
However, despite having clubbed together residents still needed the new defibrillator to be housed in a secure box with a constant supply of electricity and kept at a certain temperature.
Now Scottish Power Energy Networks has stepped in and routed a supply from an overhead line, allowing the equipment to be powered free-of-charge.
Jim Spalding a Long Row resident added: "There shouldn't be a cost to saving lives.
"Scottish Power Energy Networks has recognised that and I hope they go on to help other smaller towns and villages that are more difficult for emergency services to access.
"We have experienced too many incidents here of emergency services being unable to reach us because they were delayed by the nearby level crossing and it has unfortunately been costly in the past.
"Now, if it ever happens again, we can respond much quicker to such incidents and save a life."
Dunfermline and West Fife SNP MP, Douglas Chapman, praised those who made it a reality.
He said: "This equipment is vital for rural communities as due to their location it can take several extra minutes for emergency services to arrive.
"Having defibrillators  means anyone who suffers from a cardiac episode can be responded to quickly, which could be the difference between life and death as every second matters.
"I am also delighted to see the community spirit on show here.
"After such a tragic event the residents have pulled together to make sure it never happens again and sufferers can have the best chance of survival.
"The village may have tragically lost Betty McLean, but this defibrillator may help someone in the future.
"I thank Scottish Power Energy Networks for its generosity in installing the box and allowing the defibrillator to be run for free. It would be great to see this kind of initiative being implemented in other rural communities across Scotland."