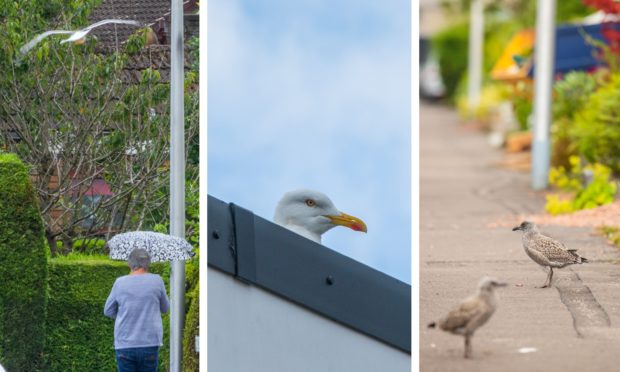 Inverkeithing residents could bring in a private contractor to tackle nuisance gulls.
A public meeting is planned in the town to help residents discuss options for tackling the birds, which have been dive-bombing people.
A date has yet to be set for the meeting, with a contractor expected to attend to discuss the issue.
David Barratt, SNP councillor for Inverkeithing and Dalgety Bay, said: "The plan is to help facilitate a neighbourhood wide initiative with the residents taking on the contractor in the same way the council has in some instances.
"As it's private property the council really has no remit but, in the absence of an organisation to take the lead, I think residents are at a loss where to start so hopefully I can help there."
Residents would be expected to cover the cost of any work.
However, Fife Council has previously commissioned work to control gull populations at Back O' Yards in Inverkeithing. Nests and eggs in the area were removed every three weeks from May to August.
Mr Barratt said: "This will be kept up for a number of seasons but I believe it is already having a positive impact."
Last month, The Courier reported residents in Scotmill Way, Inverkeithing, used umbrellas to shield themselves as they walked down the street.
Even the postman used a brolly to protect himself on his rounds.
The council advises householders to prevent gull nuisance by not feeding the birds and gull-proofing their homes with chimney guards, spikes and netting.
Previously, a Burntisland resident faced  an antisocial behaviour order (ASBO) to prevent her feeding gulls.
Conservative councillor Dave Dempsey, who also represents Inverkeithing and Dalgety Bay, successfully raised a motion at the last South and West Fife Area Committee, calling for a report into the extent of the gull problem locally.
Mr Dempsey also called for a report into what could be done to encourage owners of privately owned open spaces to keep those areas tidy.
After both motions were agreed, he said there had been "unanimity" in the room.
He added: "First it took forward proposals from the Conservatives to look into the gull problem, particularly as it affects the local area, and to investigate how the private owners of public spaces might be encouraged to look after those spaces.
"This is a particular issue in Dalgety Bay, where areas like Longhill Park are looked after but not owned by Fife Council.
"The council no longer has the budget to maintain these as it did, as evidenced by the complaints about the height of uncut grass. We need to know whether the owners can be obliged to do more and now we're going to find out."