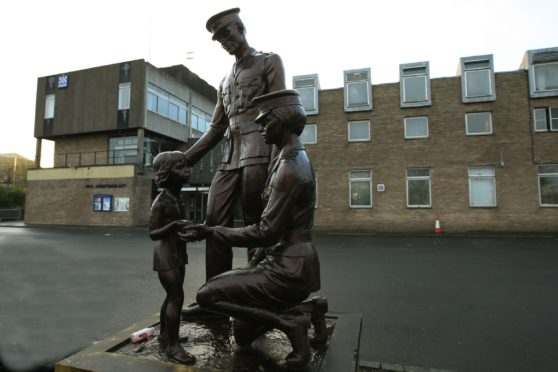 A prisoner was on the loose last night after security firm GeoAmey allowed him to escape from Dunfermline Police Station.
A major manhunt, including a police helicopter , was launched after the 33-year-old gave guards the slip at around 9.10pm on Monday.
At one point, a care home in the town was secured as officers searched the grounds outside
It is understood the man, who had been in police custody, was being escorted to a security vehicle to be taken to a court hearing when he pushed a guard to the ground and made off.
A spokesman for GeoAmey said: "While taking an offender to a waiting vehicle, the escorting officer was knocked to the ground, which allowed the person to escape custody.
"Our officer did not sustain any serious injuries and an investigation into the circumstances will be carried out."
Police Scotland would not reveal what the man was alleged to have done, or if he presented a danger to the public.
A spokesman said: "Inquiries to trace this male are ongoing."
Officers searched a number of outbuildings during the morning, including in the grounds of Leys Park Care Centre.
A member of staff at the care home said the building had been secured as a precaution. while the hunt was under way.
GeoAmey took over from G4S in January after being awarded the £238 million contract for transferring prisoners to court for the next eight years.
The firm, which had a record of escapes south of the border, was the only bidder for the Scotland-wide deal.
Incidents in England included a suspect who escaped from a moving van in Grimsby and a teenager in custody absconding while being transferred to a secure vehicle at a court in Ealing.
In June, an Aberdeen sheriff blasted the security firm after it sent a prisoner to the wrong court.
Shirley-Anne Somerville, SNP MSP for Dunfermline, said GeoAmey would have to take responsibility after taxpayers' money was spent launching the search in Dunfermline.
"This incident is very concerning and I hope the individual is apprehended as soon as possible," she said.
"I received an update from police locally, who I am confident will be doing all they can to trace this individual.
"Quite frankly, incidents like this should not be occurring. GeoAmey have to take full responsibility and explain why a routine prisoner transfer has gone so wrong.
"GeoAmey must recognise the concern this incident has caused to the general public, and the financial cost this manhunt will have in terms of the police resources being used."
Claire Baker, Labour MSP for Mid Scotland and Fife, said the incident raised "serious questions" about the security firm.
She added: "This is a serious security breach.
"The most important matter right now is finding the prisoner and ensuring public safety, but serious questions have to be asked of GeoAmey and an investigation carried out."