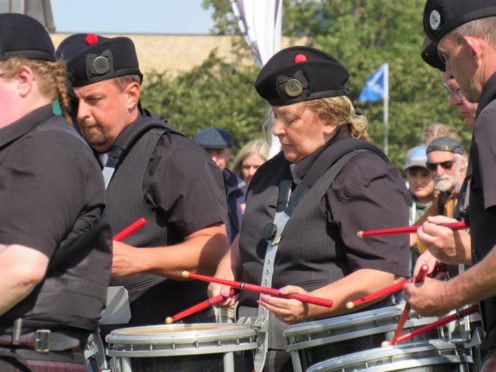 A Fife pipe band have been crowned world champions less than a decade after reforming.
The Glenrothes and District band finished on top in the grade four A league at the international contest at Glasgow Green at the weekend.
The musicians are now hoping to compete at a higher level next year.
The big winners on the day were Inveraray and District Pipe Band, who won in the top flight, grade one.
However, Shona Brown, lead drummer for Glenrothes and District Pipe Band, said her fellow members were thrilled with their "once in a lifetime achievement", particularly given their humble beginnings.
She said: "Everybody who plays in the band wants to win the world championships.
"It's surreal. People are saying 'did we really win or did we dream it?' but I know we did because we've got four trophies sitting in the house."
As well as winning in their grade, the Fife musicians received a "champion of champions" prize and awards for drumming.
A previous Glenrothes band packed up its pipes and drums decades ago, but in 2010 a number of former members, including Shona and her brother Iain Finlay, who is the pipe major, got the ensemble up and running again.
At first they did not even have formal uniforms and they still have to work hard to raise funds for equipment.
However, what they lacked in kit, the group have more than made up for in enthusiasm and determination.
"The first year we went out we didn't have any uniforms and wore black trousers and polo shirts with the band's name on them," said Shona.
"We later managed to get money together to get uniforms and equipment. We've gone from strength to strength.
"This is the best pipe band season since the band started. It's been amazing."
She said the feeling of camaraderie was one of the band's greatest strengths.
"It's great. The band is like an extension of your family," she said.
"We've got a mixture of ages. The youngest drummer who played on Saturday at the worlds is only 13."
The band is now trying to raise funds for new drums, and is hoping local firms will come forward to offer sponsorship.
Shona said the goal was to see the Fife band reach the top flight.
"We want to be competing in grade one and want to be winning like Inveraray."