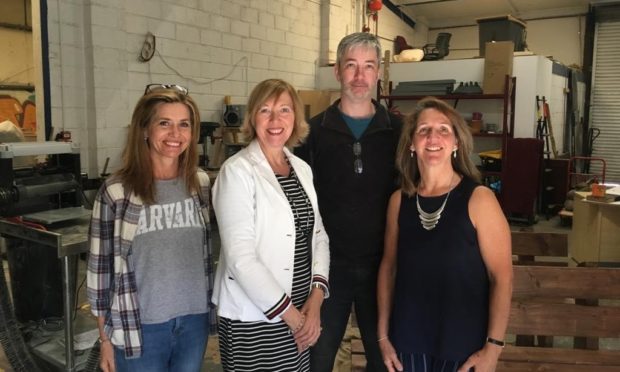 A Fife mum who lost her teenage son is on a mission to help pull people out of a life of crime.
Josee Scott, who lives in Dalgety Bay, established Freedom Unlimited Enterprises six years ago to offer employability skills to ex-offenders.
So far Freedom Unlimited Enterprises has helped more than 100 people but Josee hopes to expand the charity, and is reaching out to other organisations and groups to see how best to help vulnerable young people.
As well as employability skills, the charity also works with prisoners at HMP Glenochil and young offenders institute HMP Polmont by delivering a life coaching course to try to help people rehabilitate and stop re-offending.
The campaign was borne out of personal sadness for Josee, who lost her son Bobby 13 years ago when he was only 17.
"We had moved to Leith and he fell in with a 'wrong' crowd, stole a bike and crashed it," she said.
"When Bobby died these boys and girls rallied to support our family, shattering any preconceptions I had of them.
"I didn't understand before then but quickly learned that the vast majority of people who become involved in criminal justice services typically come from impoverished backgrounds," she said.
She added that according to research, 80% of people in prison come from socially deprived areas.
In recent years Josee started to think of ways she could actively help people caught up in a cycle of re-offending.
In a move she's described as a "leap of faith" she gave up a career in retail management to establish Freedom Unlimited Enterprises.
"The benefits of what I provide through wood workshops here in Dalgety Bay and art therapy in prisons is a change of attitude which helps people onto a positive path.
"Giving them hope for their future, especially repeat offenders who have been in and out of prison all their lives.
"They believe that who they are is who they've become.
"That's not the case and through these courses they take steps toward a different future.
"That's what we are all about," she said.
Josee added: "Not everyone is a success story but when you see that change happening you think 'if this is the only I person I've helped, it's worth it'."
Local Labour MP Lesley Laird MP said it was humbling and inspiring when brave individuals suffer personal tragedy and go on to use that experience to help others avoid a similar fate.
"It can be so easy for people to become trapped in a cycle of crime but Freedom Unlimited Enterprises offers people a vital opportunity to build the confidence to break that pattern and pursue a different future."
Josee is looking to create links with a variety of local organisations throughout Fife, including schools, and would welcome enquiries at josee@freedomue.org.