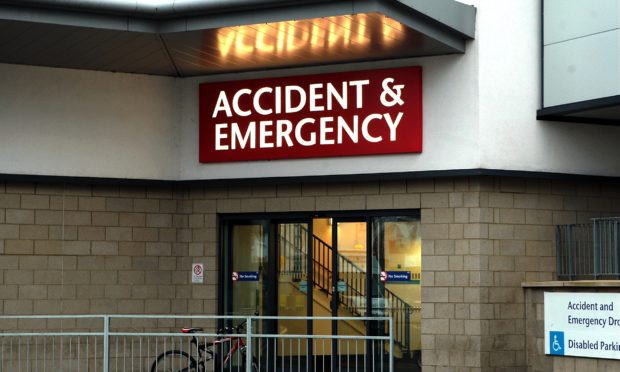 Fife health chiefs are looking into the availability of out-of-hours GPs as patients continue to swamp emergency departments at weekends.
NHS Fife bosses say they are concerned about the ongoing high number of people attending A&E when they should, instead, be assessed by family doctors.
Despite an improvement in accident and emergency performance in the last four months, Victoria Hospital in Kirkcaldy is still seeing more patients than ever before.
The hospital saw 94.7% of people attending A&E admitted, discharged or transferred within four hours in April, up from 89% in February and just under the Scottish Government's target of 95%.
The news comes after out-of-hours services at Dunfermline, St Andrews and Glenrothes were suspended for more than a year due to staff shortages, with a subsequent decision to stop out-of-hours at the latter altogether.
NHS Fife chief operating officer Ellen Ryabov said accident and emergency performance had continued to be strong during May and June, despite increased patient numbers.
She said: "The thing that concerns me, and we're working on, is the availability of out-of-hours and whether we have sufficient doctors over the weekend.
"The high level of attendances has continued. We seem to be seeing a pattern of influxes at certain periods, particularly in the early evening."
Ms Ryabov said an investigation into why more people were attending A&E will determine if it is likely to be a long-term problem.
The Courier revealed in June Fife's stretched emergency department staff were dealing with record numbers of patients.
More than 14,600 people were seen at the accident and emergency service at Victoria Hospital between March 1 and the middle of May this year.
That was 650 more patients than during the same period last year and roughly 1,000 more than in the 10-week period in 2017.
Mid Scotland and Fife Labour MSP Claire Baker blamed the situation on a lack of workforce planning by the Scottish Government.
"Since the decision over a year ago to suspend GP overnight out-of-hours services in Glenrothes, St Andrews and Dunfermline, and now a solution which means Glenrothes will lose the service, it has been clear that the lack of planning by the SNP Government for enough GPs would impact negatively across the health service.
"The out-of-hours provision is not good enough and people in Fife deserve better."
A Scottish Government spokeswoman said: "We have a record number of GPs working in Scotland and we are committed to increasing the number by at least 800 in the next 10 years.
"We are also investing an additional £250 million in direct support of general practice by the end of this parliamentary period.
"The number of doctors in training has increased by more than 10% since 2007.
"In addition, by 2020/21 we will have increased medical schools places by 22%, equivalent to an extra 190 places."