A 14-year-old boy has been charged in the wake of a devastating blaze at a Fife secondary school.
Police said the teenager was arrested as a result of inquiries conducted by Dunfermline CID into the ferocious fire that has all but destroyed the town's Woodmill High School.
He is expected to appear at Dunfermline Sheriff Court on Tuesday.
A police spokesperson said: "Officers would like to thank members of the public who came forward with information in relation to this incidents, as well as those who provided the police and fire service personnel in in attendance with refreshments during the extremely hot conditions they found themselves working in."
As firefighters continue to tackle the flames on Monday morning, which broke out at around 5pm on Sunday, meetings are being held to discuss the next steps for the school's 1,400 pupils.
The school is expected to remain closed for the foreseeable future.
Woodmill High rector Sandy McIntosh could hardly contain his disbelief at the heartbreaking turn of events, happening just a week after staff returned for the new term.
"We are all utterly devastated by what has happened to our school," he said.
"I will be meeting with our teachers and school staff this morning, along with staff from the Education Service and wider Fife Council to put in place plans for our young people.
"My heartfelt thanks go to the Emergency Services for all they have done to save our school.
"Updates will be provided to our parents through Groupcall as soon as we have more information."
Fife Council's education convener, SNP councillor Fay Sinclair, described the situation as devastating
"Fife Council's emergency resilience team is meeting this morning to discuss options going forward and plans for relocating DAS pupils are already under way," she said.
"From what I've seen from the outside of the building this morning, all pupils are going to have to be accommodated elsewhere as the damage is throughout the school."
Mrs Sinclair said information would be communicated to pupils and parents as soon as possible but added: "Firefighters are still on site and for the moment there is no access to the school to assess the damage."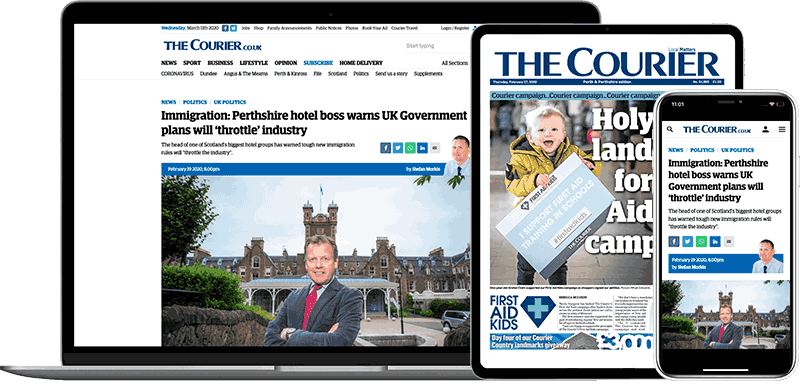 Help support quality local journalism … become a digital subscriber to The Courier
For as little as £5.99 a month you can access all of our content, including Premium articles.
Subscribe