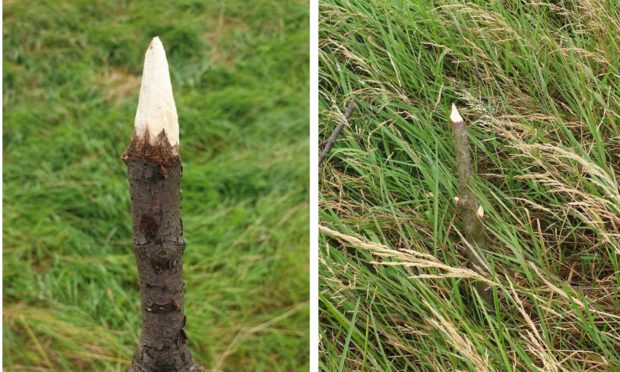 Fife residents are being warned to be vigilant after deadly spikes were found in a popular dog walking spot near a school.
Sticks sharpened to a lethal point have been found planted in the ground behind Levenmouth Academy.
A local councillor described the spear-like traps as "extremely dangerous" for children and animals.
Locals suggest the spikes may have been placed there by deer poachers or as a deterrent to nuisance motorcyclists, adding that their presence is causing alarm among the wider community.
Dog walker Steve Howell, 38, said his pet narrowly avoided being impaled by one of the spikes on Wednesday and he has warned others to avoid the area.
He said: "It's quite overgrown so they can be hard to see."
Mr Howell, who runs a photography business, was walking his rottweiler, Blade, and his staffie, Cody, when he noticed the hidden hazards.
He said: "I was just walking along that area at the very back of Levenmouth Academy, where some people and kids from the school have been planting trees etcetera.
"There is still a path along the very back, parallel with the farmer's fence, where a lot of people walk their dogs.
"I was over there with my two dogs, throwing the ball as I normally do. I threw the ball, my rottweiler ran ahead and got the ball, where he then waited for me.
"I got there and noticed the stick, jammed in the ground, angled facing forward, where my dog just ran from. If he was about a foot to the left he could have run right into it and been stabbed.
"Walking further up the path, now looking for them, I managed to spot another one. I removed them and threw them right into the side at the farmer's fence."
The discovery of the spikes come just a few months after makeshift deer traps were found near the River Leven, with a member of the public suffering cuts as he tried to remove the contraption – made out of wood and barbed wire – from The Dam area of Methil.
Local Labour Councillor David Graham said: "I'm very concerned to hear of the presence of these spikes in a public area. Local perception is suggesting that it may be an attempt to thwart the use of motorbikes.
"I know that the community are frustrated by the presence of motorbikes in the area but we cannot have these kind of measures being taken and we need to continue to work with the police on their excellent approach we have seen this year.
"The installation of these spikes is extremely dangerous for other users of the park including children and animals.
"I would urge anyone who has information on their location or on how they were installed to contact the police by dialling 101."