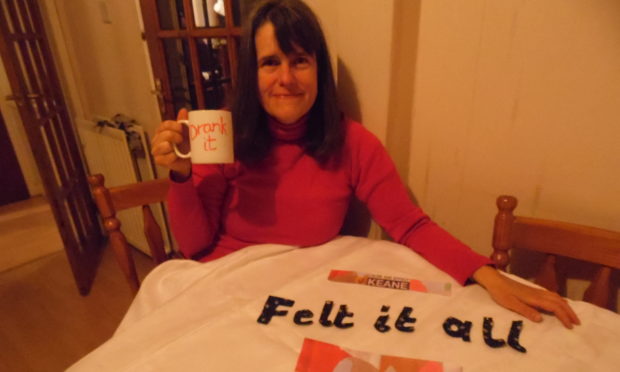 A Cupar Scout Leader and college employee has become an unlikely music star in the latest video by Brit Award winning rock band Keane.
Long time fan Issy Bonnes, who is an inclusion assistant at Fife College,  was randomly invited by the band's fan site to send in a lyric video clip for their latest single 'Love Too Much'.
Issy's three line contribution including lyrics written on a cup was used near the start of the song with the lines 'Felt it all…gave it all…drank it all."
Issy told The Courier it was a "dream come true" to feature in the video for a band she had followed for 12 years.
She said: "I couldn't believe it, that I was chosen to do this. So many people seemed to have been asked.
"I didn't have much time because I was about to go on holiday, but I was bursting with ideas and loads of craft stuff in my house to use to bring my ideas together!
"My Youtuber son Goggsy helped with the editing, which took ages, because I wanted the lyrics to fit the music perfectly.
"It was great fun working on a joint project with him. I didn't know my ideas were chosen until the premiere on Youtube.
"It's been so exciting, a dream come true and I can't wait for their concert in Edinburgh in October.
"Their new songs are so powerful, so it's been great to have been part of it, even for only five seconds!"
The band revealed the lyric video for their latest single 'Love Too Much' last week.
It's the second track to be taken from the new album 'Cause and Effect'. Directed by Kinga Nowicka, the video stitches together clips sent in by fans from Keane's online community 'Thread'.
Chosen at random, fans around the world were privately messaged individual lyrics from the song and asked to write them out in their own unique way, creating a patchwork-like video.
'Love Too Much' follows the hit single 'The Way I Feel', and was written by Keane, and produced by David Kosten and the band.
Keane release their new album 'Cause and Effect' on Friday September 20.
The release is Keane's fifth studio album. Their four previous albums have all entered the UK charts at number one and accumulated sales of over 13 million and over 2.6 billion streams worldwide.
Their debut album, Hopes and Fears won the 2005 Brit Award for Best British Album and was the second best-selling British album of 2004.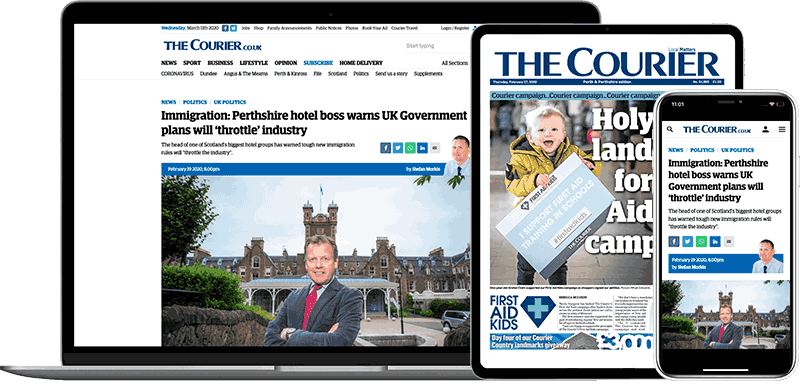 Help support quality local journalism … become a digital subscriber to The Courier
For as little as £5.99 a month you can access all of our content, including Premium articles.
Subscribe