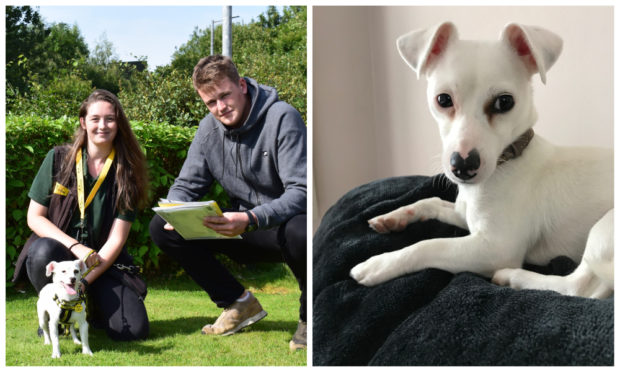 A man who found a Jack Russell dog on the side of a busy Fife road has given him a new home.
Jamie Howie was driving home from work when he noticed something moving in the long grass at the side of a field in Cupar, so he pulled over to investigate.
He discovered Buttons, a timid two-year-old Jack Russell Terrier.
Jamie said: "At first, I thought it might have been a pheasant because I could only see the grass moving; it was quite overgrown and Buttons is a very small dog.
"When I got closer and realised it was a dog, my first instinct was to protect it because if he ran onto the road then he could have died or caused an accident.
"I had to be patient because he would only come so near to me and then run off again but gradually, he got closer; and 45 minutes later he was confident enough and jumped straight into the seat of my car."
Jamie took Buttons to six nearby properties to find out if he belonged to anyone. After a vet had checked Buttons over, he spent a week in a local pound but was never reclaimed by his owner.
He added:  "I stayed in touch with the pound so I could check in on Button's progress. They informed me that if he wasn't reclaimed by his owner, he would be transferred to Dogs Trust's Rehoming Centre in Glasgow in order to find a new home.
"The moment Button's found his way to Dogs Trust; I travelled an hour and half to visit him and expressed my interest in giving him a home. I had to come back a couple of times and once the team had done a home visit to make sure my house was suitable; it wasn't long before he was heading back to Cupar with me."
Sandra Lawton, Rehoming Centre Manager at Dogs Trust Glasgow, said: "We are so glad Buttons has found his special someone and we'd also like to commend Jamie for making sure Buttons was kept safe after his ordeal.
"It isn't farfetched to say Jamie potentially saved Button's life; and going forward he has also committed to giving him a new life too which makes this adoption even more special.
"Buttons hadn't been microchipped when he was found, which would have made it very difficult for local authorities to reunite him with his owner. Microchipping our pets is a legal requirement and means that if they go missing, they can be returned quickly if found by a member of the public, giving dog owners peace of mind.
"We want to remind anyone who no longer feels that they can care for their dog to contact their local rescue organisation for support.
"When a dog is abandoned on the road side, it not only puts them in danger, but also drivers. We are so thankful that Button's was found when he was."