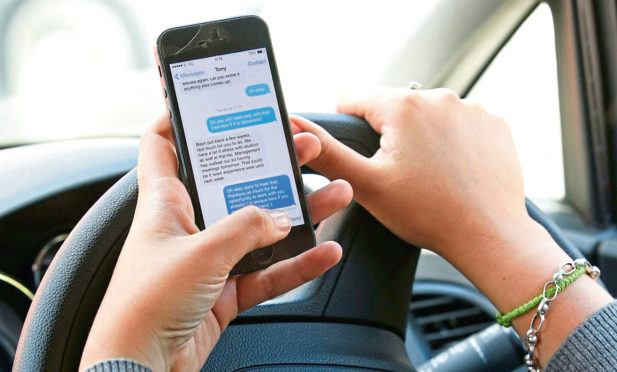 A Scottish Rugby administrator was using a mobile phone when he caused a spectacular crash in Dunfermline.
Arran Hain crashed though a central reservation barrier and almost collided head-on with vehicles coming in the opposite direction.
Hain's car ended up a wreck and a car in the opposite carriageway was also a write-off after being struck by the flying debris.
A pregnant woman and her two children required hospital treatment. The youngsters were said to be "traumatised" following the incident.
The woman and her partner both told a trial they saw Hain using a mobile phone at the time of the crash. He repeatedly denied this.
As well as his administration job, Hain also plays for Dunfermline Rugby Club's first team.
Hain, 20, formerly of Garvock Terrace, Dunfermline, and now living in Edinburgh, was found guilty of dangerous driving after a trial at Dunfermline Sheriff Court.
He had denied that on May 28 last year at Halbeath Road he drove a car dangerously, failed to maintain proper control of it, lost control, mounted the central kerb, collided with railings which struck a car, all whilst he was using a mobile phone.
Hain lost control of his car on the road and crashed into the central reservation, demolishing a large part of a barrier, which then struck a car coming in the opposite direction.
This car was carrying a couple and their two children. The pregnant mother and her children went to hospital for treatment.
The couple both told the trial they had seen Hain with his phone in his hand as he collided with the barrier.
Their car was a write-off after metal railings struck their roof, door and underside.
Hain denied he had been using his mobile phone. He claimed he had lost concentration because of family problems and being unhappy at his work at that time.
He said: "It was a momentary lapse of concentration.
"My mind had wandered. I lost concentration for a second.
"There's a slight curve in the road and I didn't follow that and ended up in the central reservation."
Sheriff James MacDonald said he found Hain's story "implausible".
He banned him from driving for a year and until he passes the extended test. Hain was also fined £750.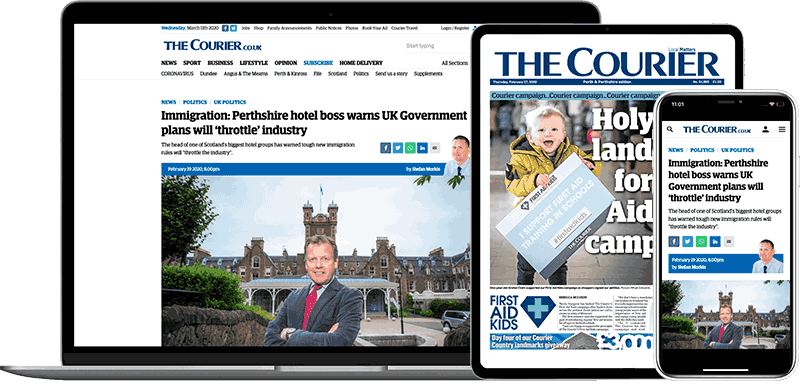 Help support quality local journalism … become a digital subscriber to The Courier
For as little as £5.99 a month you can access all of our content, including Premium articles.
Subscribe