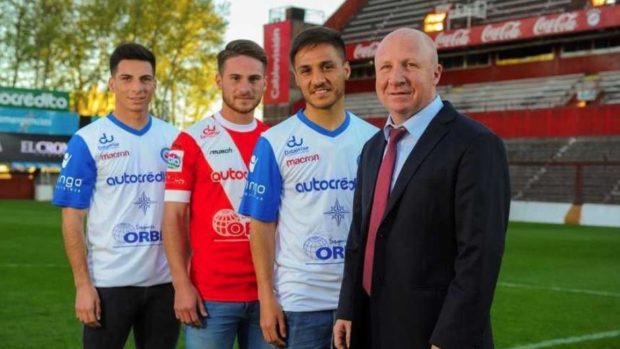 Three brothers with roots in Fife are keeping Argentina's incredible football connections with Scotland alive.
Alexis, Kevin and Francis MacAllister all came through the ranks at Argentinos Juniors whose youth set-up produced Diego Maradona.
They are the three children of the diminutive ginger-headed former Argentina international left-back Carlos MacAllister whose ancestors hailed from Fife.
"When they were little, they had two favourite subjects before bedtime," said MacAllister.
"One was that of the three little pigs, the other, the one of three brothers who came to play together at Real Madrid.
"They had big eyes like two lanterns and listened carefully.
"I never finished the story because I fell asleep before them.
"And when I woke up, already in the morning, they always asked me: 'And, dad? How does the story end?'
"Actually, I never thought that the dream would come true in Argentinos Juniors."
Alexis, 20, signed for English Premier League club Brighton for £7m in January before he was loaned back to Argentinos Juniors as part of the deal.
In June, Boca Juniors completed the loan signing of MacAllister, linking him up with his brother Kevin, 21, a defender, who had also joined the club on loan from Argentinos Juniors, six months prior.
Midfielder Kevin, 23, is the only MacAllister who remains at Argentinos Juniors which has been described as "one of Argentina's most distinctive football clubs".
Alexander Watson Hutton, the man acknowledged as 'the father of Argentinian football', was born in the Gorbals in June 1853, after his parents, Robert and Ellen, who were Fifers, moved to Glasgow in the 1840s.
With the death of his parents as a youngster, Hutton received his education in Edinburgh, graduating with a second class degree in philosophy before taking up a teaching post at George Watson's in the capital.
Mental that there was an Argentinian international and former Boca player called Carlos Javier MacAllister. pic.twitter.com/ZNAokyqMqX

— SE (@seanewa) November 11, 2018
He set sail from Liverpool for Argentina in 1881 after he was offered a position as rector at the St Andrews Scotch School in Buenos Aires, which had been founded by the first wave of Scottish settlers in 1838.
At a time when rugby was the sport of choice among Argentina's expatriate community, Hutton planned out the first football pitch in the country for his students to play, and also brought the very first footballs into the country in 1886.
He helped establish the Argentine Association Football League (AAFL) in 1893 and remained as president of the AAFL until 1896.
In 1898, Watson founded the Club Atlético English High School (CAEHS), which was renamed Alumni Athletic Club in 1901, and became the dominant force in Argentinian football, winning nine of the first 11 Argentinian league championships.
To this day the team's trophy hoard is only bettered by the 'big five' of River Plate, Boca Juniors, Racing Club, Independiente and San Lorenzo.
Hutton's son Arnold played for Alumni and on several occasions he lined up for Argentina with his brother-in-law Wilfred Stocks.
Hutton died in March 1936 and library at the Argentinian Football Association is named in his honour.
The most famous Argentina player with Scottish parentage or descent is Jose Luis Brown who scored the opening goal in the 1986 World Cup final as Maradona's Argentina beat West Germany 3-2 in Mexico.
TalkSport reporter Derek Clark said the MacAllister success story serves as a reminder of the central role Scottish emigrants had in the birth of football in Argentina.
Mr Clark, host of the Talkin Fitbaw podcast, said: "This is a truly fascinating tale and one that brings with it a great sense of pride, particularly at a time when it's difficult to find in Scottish football given the recent poor performances from the national team.
"To think that Scots played a massive role in the introduction of football in Argentina is mind-blowing.
"Surely we can take a little bit of credit for their World Cup win's in 78 and 86?
"When we think of Argentina, sexy football springs to mind given some of the world class players they have produced.
"What we would give for a little sprinkling of that in Steve Clarke's beleaguered looking squad."
Argentina's footprint on Scottish football
Scotland's gift of the game to Argentina is well-known.
But Argentina has also left its footprint on football in Scotland.
Prior to the 1990's very few overseas players had played in Scotland and amongst the first to arrive become a by-word for a duff foreign signing.
The not-very-aptly-named Explosive One Walter Rojas joined Dundee United in August 1991 for a minimal fee from San Lorenzo.
United had apparently beaten off a host of clubs including Sampdoria and Foggia for the Argentine's signature.
He was supposed to be a tricky winger but trialist Rojas turned out to be a damp squib and was never offered a deal by the Tangerines.
More successful was Victor Ferreyra who scored eight times during his 35 appearances at Dundee United and Gabriel Amato who scored 13 goals in 45 appearances for Rangers after signing for £4.2m.
Following Amato came the highest profile signing of them all in 1990 and 1994 World Cup hero Claudio Caniggia who sensationally joined Dundee in October 2000.
The huge demand for Dundee shirts with his name on the back even brought the club shop to a standstill as they ran out of letters.
He did his talking on the pitch with important goals in big games including a derby win at Tannadice where he famously pulled pints for Dundee fans in the pub after the match
Suddenly Dundee games were being shown live across the world and the world's greatest player Diego Maradona was ready to jump on a plane to play for the Dark Blues.
Caniggia had vowed to bring his close friend and fellow countryman to the club when he arrived in Dundee.
There was written correspondence between Maradona, his representatives and Dundee, which outlined both parties' desire for Maradona to play in a one-off glamour friendly against his former club Napoli at Dens Park.
The glamour friendly "evaporated" after Maradona got involved in a row about a tax bill in Naples.
Caniggia eventually left Dundee to sign for Rangers in the summer of 2001 after just one season.
The likes of Fabian Caballero, Beto Carranza, Juan Sara and Julian Speroni also enjoyed spells at Dens Park in the early 2000s.