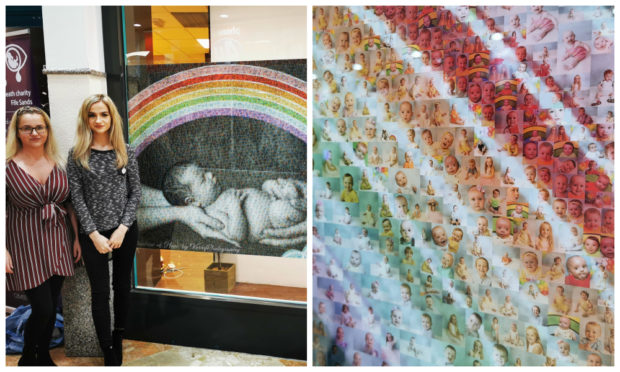 A "rainbow of hope" has emerged in Kirkcaldy, celebrating love after grief.
The town's Mercat Centre is helping a local photography duo to showcase a special installation which aims to bring hope to families who have experienced the loss of a baby and help raise awareness of the support available in the community.
The Rainbow of Hope mosaic, unveiled in the unit next to Shoe Zone, is a poignant collection of images of more than 100 infants who were born after their parents experienced a miscarriage, stillbirth or neonatal death, known as rainbow babies.
They were captured by Kerry Anderson and Courtney Anderson, the mother-daughter team from Kirkcaldy-based Kerry Photography.
The rainbow baby term comes from the idea of a rainbow appearing in the sky after a storm or following a dark and turbulent time.
What began as a personal assignment for Kerry, who has had her own losses – as have other family members and her friends – soon turned into something much bigger.
"We were originally going to photograph maybe 10 children over two days, but then I started getting messages from people who have also suffered the loss of a child, and in some cases children.
"We wanted parents to know they weren't alone and everyone who wished to be part of this was able to do so."
The pair decided to use the project to raise awareness for the Stillbirth and Neonatal Death Society (Sands), which has a branch in Fife.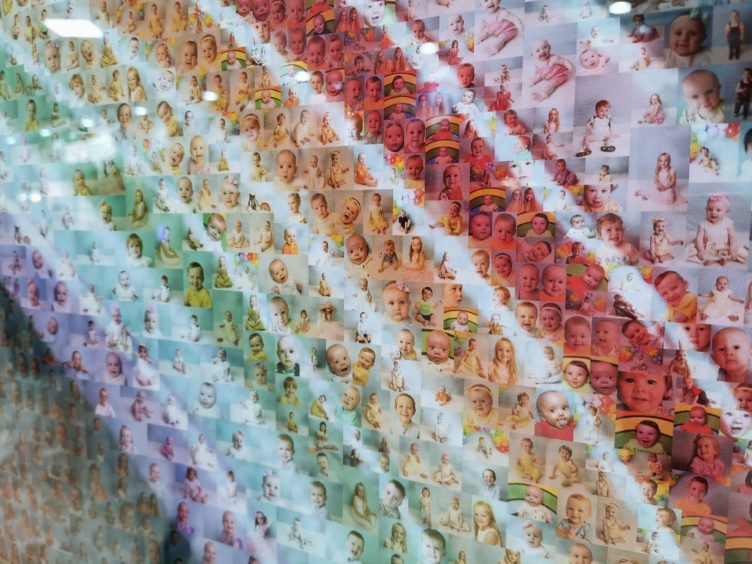 The families of those featured in the piece have been to see it and visitors will be able to have quiet moments of reflection at the mosaic, which forms a rainbow when viewed from a distance.
There will also be a raffle to raise funds for Fife Sands and the Simpson's Memory Box Appeal, as well as information services and support in the area.
It also coincides with Baby Loss Awareness Week which runs from October 9.
Mercat centre manager Stephen Roberts said Kerry and Courtney's work will go a long way to help other families heal.
"When we first heard about the Rainbow of Hope, we immediately knew that we wanted to show our support," he said.
"The loss of a baby is unimaginable and for those who have been through such devastation, this art is a touching symbol of light and joy.
"We would like to say thank you to Kerry and Courtney for highlighting such a delicate matter in a truly hopeful and uplifting way."